SMS and text marketing has been used for a long time as an effective marketing tool and 2020 is not going to be any different. In fact, experts believe that the usage of professional text messages will keep increasing through the year, courtesy the boom in mobile usage across the globe. Several studies focused on SMS marketing statistics already exist but there're a few new ones that offer better insights about the opportunities. Marketers around the world can use these latest studies to understand the market size and potential of text marketing.
All we're trying to do is drive in our point that SMS marketing can be used by businesses to develop customer relationships and conversion of prospects. However, you don't need to take our words on face value and instead take a look at these incredible texting statistics to decide. You need to do your own small research to etch out a customized SMS marketing strategy for growing your business.
Global SMS Marketing statistics

The following SMS statistics will give you a clear perspective about mobile phone usage and impact of text messaging:
65% of the total global population, which is a whopping 5 billion people, either send or receive text messages
80% of the total population of North America, which is an incredible 292 million people, use SMS
The largest chunk of mobile users comprises of the Russian population. 89% of the total Russian population either receives or sends text messages
Indian and Chinese citizens send the highest number of text messages. In fact China takes the first position with 1,081 million followed by India with 730 million people
In 2017, $1.05 trillion revenue was generated by the mobile industry and that was an annual increment of 1.64%
Mobile internet users across the globe crossed the 3.3 billion mark. As per industry prediction, by the year 2025, 72.6% of the internet users will access websites on Smartphones only.
Majority of the population across the globe are using Smartphones - 57% of the total mobile users comprise of Smartphone users. The total number of Smartphone users is going to hit 3.5 billion by 2020
Text Marketing is the Future
Statistics reveal that mobile usage and SMS is only going to increase in the coming years. All the reports mention that mobile text marketing will keep growing through 2020 and the upward trend is going to be maintained until 2025. Thus, it's not just a passing trend because the mobile industry is only going to grow in the future.
By 2025, 5.9 billion people across the world would be sending and receiving text messages – that's a huge reason why you should opt for text marketing
By 2025, 77% of the total world population is going to possess Smartphones
Above 3 billion people shifted to 4G as their preferred network technology across the globe
By the end of 2025, 1.2 billion users are going to shift to 5G connection and a major chunk of users will be from China, Japan, US and Europe. These countries are quickly deploying 5G, which would automatically give them the advantage.
Two-third of the total mobile connections across the world are going to use high-speed networks by 2025
By 2025 and incredible 6 billion users across the globe will be sending and receiving SMSs
61% of the global mobile users will get access to mobile internet by the year 2025
Text Marketing Rules The Roost
Now, that you're aware of the growth of mobile around the world, you need to apply the knowledge for growing your business. Here're some text marketing stats that will help you understand how SMS marketing is actually reaching out to customers and how you can try to adopt the same to grow your business in 2020.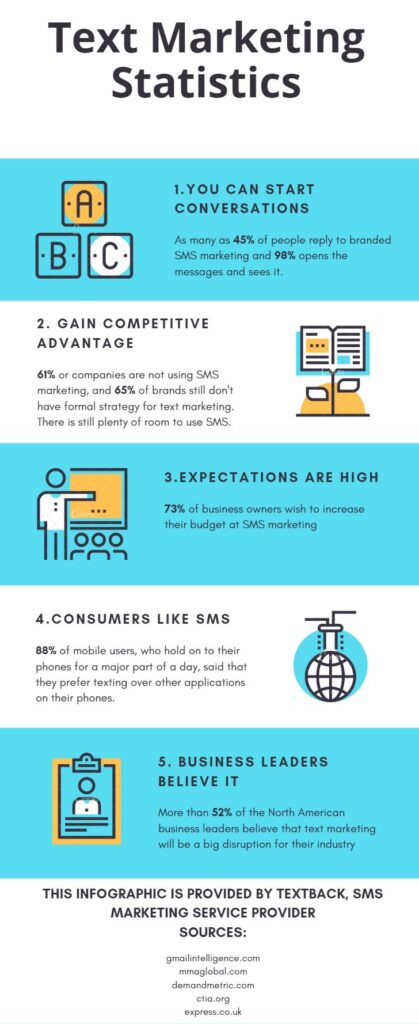 The open rates of text messages is as high as 98% so your prospects will definitely see the text you send
An amazing 45% of target customers reply to text message blasts, so starting a conversation is easier
You have the opportunity to ace the competition as stats reveal that 61% of the total number of marketers never uses SMS. Thus, you can always get an early starter advantage.
The use of text marketing is increasing across business verticals but still not every business has made its optimum use. Around 52% of the North American business leaders believe that text marketing is a big disruption for their industry
Mobile is changing consumer behaviors, especially mobile commerce. 46% of the marketers in North America believe that it has hugely influenced the mobile commerce vertical.
The rise of mobile has also boosted mobile payment and 40% of marketers in North America are of the opinion that this disruption in consumer behavior is the biggest change they're observing.
The retail sector in North America has used ingenious and creative mobile marketing techniques and 47% of the total number of marketers has adopted various mobile marketing techniques.
It's strange that 65% of the brands are not making optimum use of text marketing and they don't even have a concrete bulk SMS marketing strategy. All this is despite the fact that mobile usage across the globe is on the rise and businesses aren't taking advantage of mobile usage.
The most amazing statistics is that about 73% of business owners wish to increase their budget for SMS shortcodes and text message marketing by the end of 2020
Even 33% of marketers wish to give higher priority to mobile loyalty coupons and schemes during 2020
Vital Additional Text and MMS Stats for Marketers
Business owners and marketers can reach a prospect's mobile using MMS and SMS marketing. Studies have revealed that it's an effective way to communicate with consumers. In fact, customer survey shows that consumers prefer to hear from brands through SMS and MMS. Customers prefer text messages over emails or phone calls from brands. People are quite excited about the SMSs from brands and there're stats to prove it.
88% of mobile users, who hold on to their phones for a major part of a day, said that they prefer texting over other applications on their phones. A survey on driving and texting revealed that the majority of the people prefer to text, irrespective of what they have been doing and that includes driving.
Voicemails are not effective and soon they would get obsolete, even if more than 90% of the businesses leave voicemails to communicate with their customers. The reason is that 29% of the customers never hear to their voicemails. Thus, it's clear that if you're using such outdated modes of communication then chances are that you're wasting your time, effort, and money. You would never ever hear back from your consumers because they would be sending and receiving only text messages.
Market research in the US shows that 92% of the people have text facility on their mobile phones and 98% of Smartphone owners use texting applications on a daily basis. However, there are only 14% of brands that text their consumers. This reveals that there's a huge opportunity to be exploited and only a few businesses are using text marketing to their advantage.
Text messages over email or phone calls is preferred by 85% of the customers
In order to troubleshoot issues, 70% of consumers prefer to go the mobile messaging way. Your business too can experience quick growth if you offer text-based customer support instead of just putting them on hold.
Another survey points that for contacting companies with billing questions and other concerns, 68% of the consumers would prefer using mobile messaging.
In order to make a reservation or for updating one, 64% customers prefer to go with text messaging
64% of customers said that they prefer mobile messaging if they wish to update or change a purchase
71% of consumers said that it was really effective when they used text messaging to contact businesses
66% of consumers said that they're willing to pay higher for a product or service if the brand offers support through mobile messaging
A higher number of people used text messaging than they actually owned landline phones or personal computers
64% of people are of the opinion that brands that send text messages, give value to their time, are actually progressive and they would recommend them to others as well.
Companies or brands using mobile or text messaging create a positive feeling among customers and 53% of the customer's vouch for this.
About 45% of customers believed that it was the communication through mobile messaging that convinced them into choosing a particular service, product or brand.
By the end of 2020, 85% of customer interactions will be managed using only text messaging
97% of the businesses realized that communication with customers became more efficient after using text services
Insurance agents were the first group of marketers to adopt MMS for growing their business. 67% of the insurance agents use MMS messages to send and receive claims and quotes.
Mass text apps are recommended by 94% of the companies that are already using text communication channels.
In 70% of the cases, interactive content such as MMS or SMS campaigns have been successful in generating conversions. However, passive content's success rate is way below at 36% only.
On a regular basis, 95% of the millennials receive or send messages. On the other hand, 4 out of every 5 consumers send messages.
Steps to get started with our MMS or SMS marketing Initiative
If all the above statistics have inspired into trying text marketing or group texting for your business then there's no point waiting. Here's a list of things that you can do to initiate your texting campaign and we are pretty sure that it would yield incredible results in 2020.
Turn-key Solutions are the Best
Going the DIY way might sound interesting but it's fraught with perils. As far as text marketing is concerned, it's best to partner with an experienced provider. The turn-key solution providing companies can help you understand the platform to get started. It's important that you find an SMS or text messaging software service that can provide the necessary training, manage your campaigns and also get started with some automated SMSs.
Create a plan for SMS marketing
Just like your other marketing initiatives, you need to create a plan for SMS marketing campaign as well because it helps you to be cohesive and decisive with the communication. There're several text marketing guides, including ours, that can help you create a concrete plan. Don't forget to learn about the common SMS marketing best practices before you begin. You need to deal with a few legalities prior to starting your SMS marketing campaign such as customer consent. Well, any reputed brand would never indulge in unethical practices so it's important to keep record of your customer's consent regarding receiving messages. The text marketing plan should help you with the legal compliances and best practices pertaining to your SMS marketing campaign.
Create KPIs and review the plan
For any marketing campaign to succeed, you should be able to measure its performance based on certain KPIs. Likewise, you need to set KPIs for your text marketing campaign and review its performance at regular intervals so that you don't go about wasting money on campaigns that fail to yield desired results. You have to change your strategy if things aren't working out according to the plan, which even includes the implementation of advanced techniques for text marketing.
The biggest advantage of SMS campaigns is that you're able to find out the action that a recipient takes after receiving a text message. Thus, you're able to check the tracking links inside the messages to find out more about your campaign and you also have the opportunity to review your strategy while making tweaks as and when necessary.