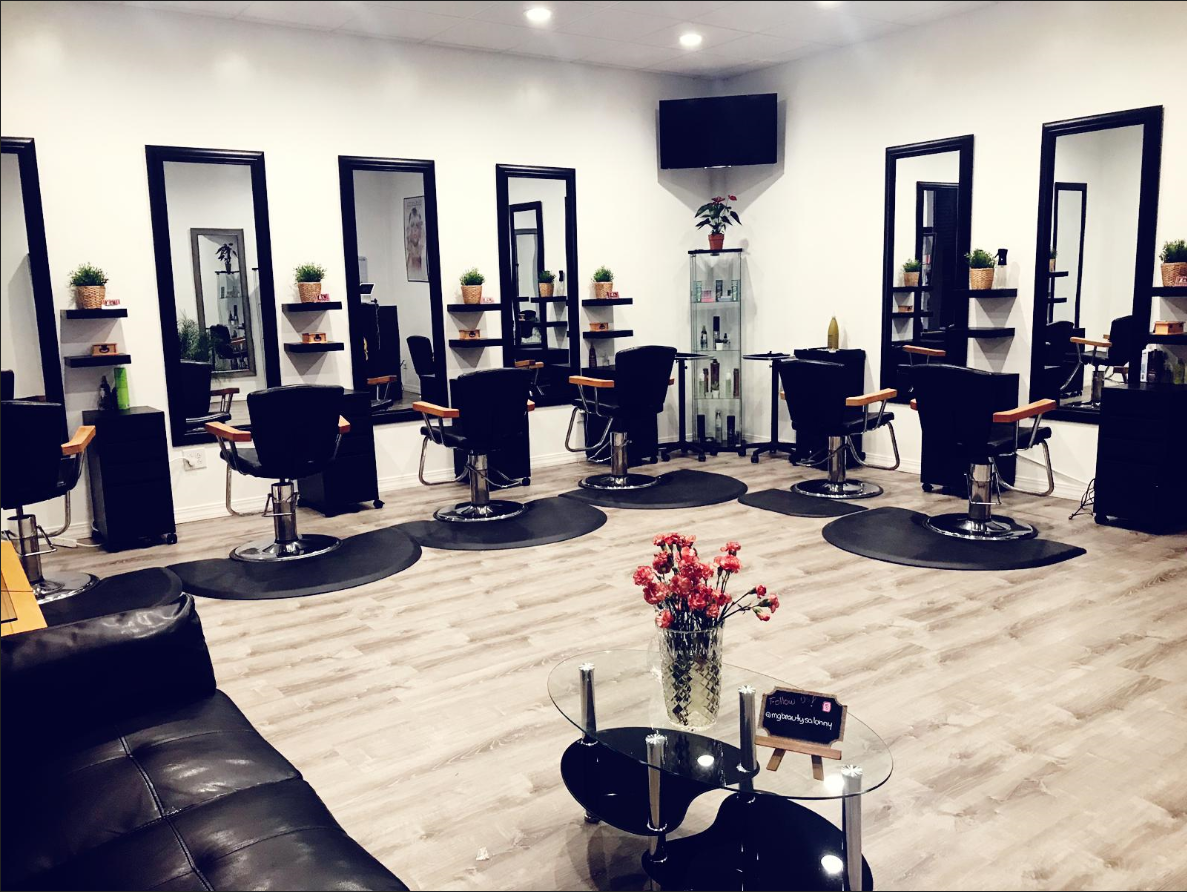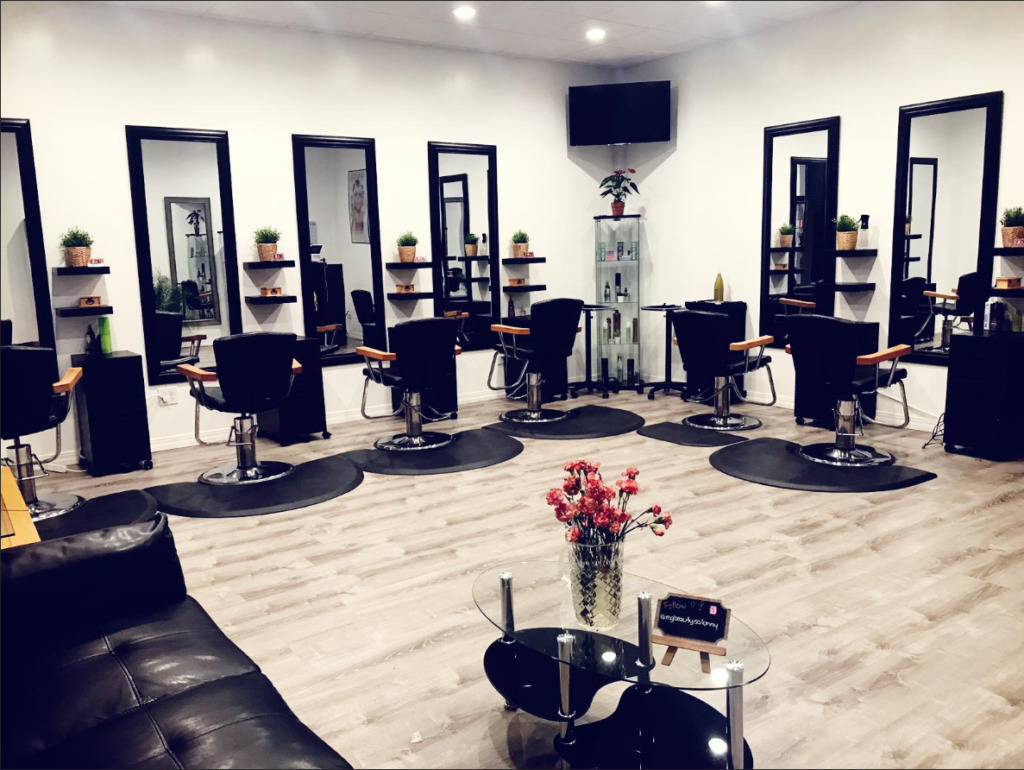 "Time is money" is a cliché for a reason. Especially in the spa and salon industry. You work hard keeping clients happy all while providing a relaxing and therapeutic experience. When it comes to your communications and marketing, don't you think you deserve a little pampering too?
With this guide we'll go over some key reasons why text marketing is the right tool for your spa or salon as well as share some ideas for texts you and your clients will find useful. And we'll cover it all faster than you can say "isn't the first cardinal rule of perm maintenance that you're forbidden to wet your hair for at least 24 hours after getting a perm…and wouldn't somebody who had, say, 30 perms before in their life be well aware of this rule?"
How Can You Do Spa & Salon Marketing With Text Messages?
The oversimplified explanation is, text marketing is a form of digital communication that allows you to send texts to groups of people instantaneously. All this while opening up a channel for people to both respond back and initiate conversation with your business one-on-one.
Just like all other marketing strategies, every SMS marketing campaign should have a stated objective. Most commonly, businesses use SMS marketing to drive sales, improve brand awareness, educate subscribers, increase website traffic, generate leads, or even remind customers of events and appointments.
But before we get too far ahead, let's cover some of the basics that make up almost every text marketing campaign.
Keywords: This is a word or phrase customers can text to your number to sign up for messages.
Campaigns: A campaign is a text sent to a group of people. This could be a small group, just your regulars, or a larger group like your entire client base.
MMS: MMS stands for Multimedia Messaging Service. This feature is included with every TextBack Ai plan and allows you to include photos and videos in your messages.
Autoresponders: This is a message that automatically goes out a set period of time after your customers join your list. You can set the delay to minutes, hours, days, weeks, or even months.
Segments: A segment is a group of subscribers that has something in common. You can use the data from your POS system to create segments within your list and send relevant, targeted messages to each one.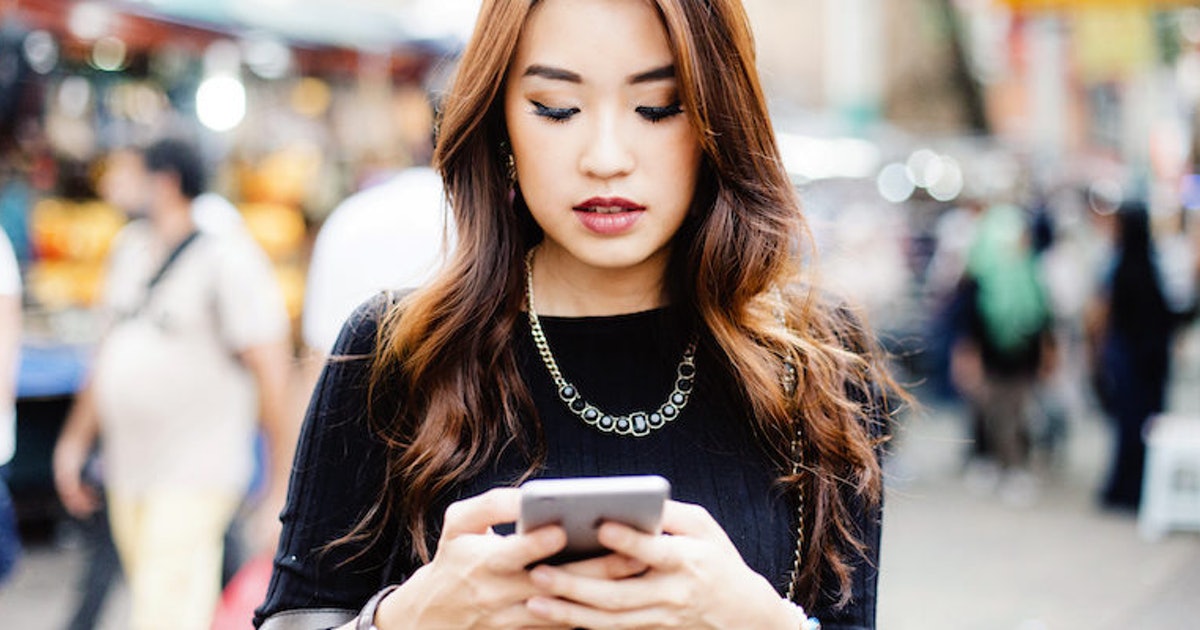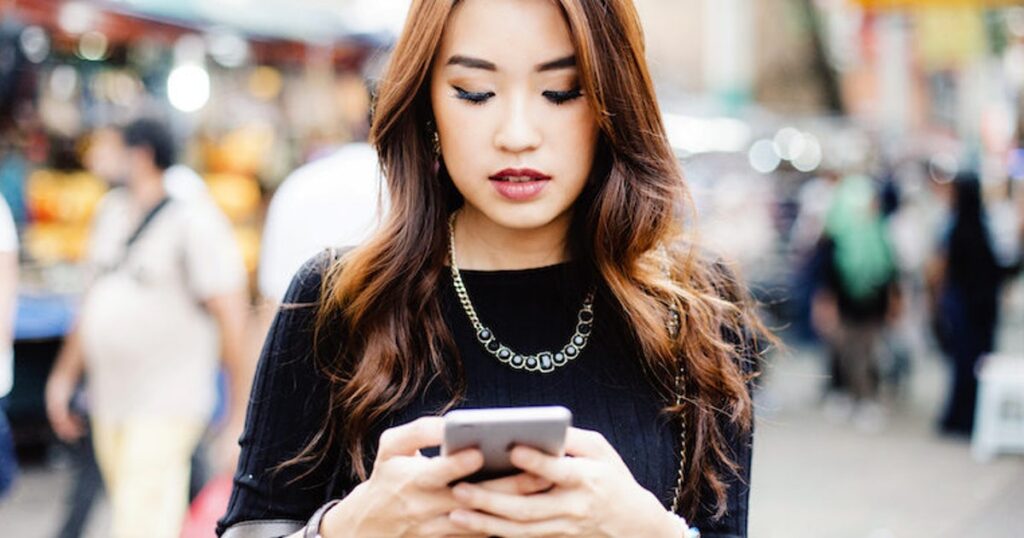 Why SMS Spa & Salon Marketing?
Text marketing is the convenient and affordable solution for spa and salon workers looking to have their messages honored and heard. SMS marketing gives you the power to engage and retain current customers, as well as share deals that can drive new customers to your business.
Did you know US smartphone users send and receive five times more texts than they make and receive calls? If you're still not convinced using SMS for your spa is the move for you, here are seven great reasons why text messaging is a perfect way for your business to reach clients.
7 Reasons Why Your Spa or Salon Marketing Should Include Texting
1. It's popular (with everyone)
The number of monthly texts sent has increased by more than 7,700% over the last decade. The ease of texting has allowed it to gradually become one of the most preferred modes of communication.
Need to attract younger customers? Salons and spas can cash in on texting's popularity with young adults— 97% of them text regularly. Worried about alienating customers who aren't millennials? Don't be. 94% of smartphone users 70 and older are texting on a weekly basis!
2. You'll be seen…instantly!
97% of marketing texts are read, and 90% of those texts are opened within three minutes of receipt. The open rate of marketing emails on the other hand is typically 10%. Connecting with clients in close to real time will keep your salon/spa running efficiently and help you get the jump on slow periods for appointments.
3. It's intimate
Why do we read our texts so quickly and so consistently? Well, because most of the time they're from close friends, family, and love interests. Texting can get a pretty bad rap as an "impersonal" form of communication. That may be true… but only if you're using it to replace a conversation that is best had face-to-face. Trying to confirm appointments and share coupons is a lot different than breaking up with your partner of 12 years who you share a house, dog, and panini press with.
When your customers accept your texts, they welcome you as a lively salon or spa with a human touch who values their time.
4. It's accessible almost anywhere
With texts, you can reach your customers virtually anytime, anywhere. 89% of people always have their smartphone easily accessible, meaning no more than an arms length away.
Unlike physical coupons or flyers, customers will carry your message with them wherever they go. No more missed calls or worse, "voicemail box is full" recordings. Checking a coupon or verifying an appointment time is as easy as pulling up a conversation in your intuitively organized inbox.
5. Texting is affordable
The cost of text campaigns can be as little as 1¢ per text, and well worth the return on investment. Plus, our customer support team is always here to work with you, seven days a week, to find a pricing plan that fits your spa or salon's unique needs. Unquantified is the amount of time you'll save hunting people down to confirm appointments and cutting down on no-shows.
6. No time is wasted on uninterested recipients
For many of the reasons we've stated above—it's intimate, it's accessible, it's immediate— texting is tightly regulated by the Telephone Consumer Protection Act (TCPA). This means that anyone who your spa or salon is texting has expressly consented to receive messages from you. Each time someone opts in to receive texts from your business, you know you're connecting with a customer who is either a loyal supporter, or they're interested in what you have to say.
7. It's customizable
With spas and salons, each client is unique. Often times, once someone has found a location that they like, they'll return for similar services on a regular basis. Through data collection and autoresponders you can cater to those patterns with reminders to book, upcoming appointments, special offers based on their previous services, and more.
Sample Texts for Spa & Salon Marketing
Deciding how to wield your newly acquired text powers is the fun part. We'll share some of the most common ways we've seen salons and spas use text message marketing. Our list is hardly exhaustive, so don't be afraid to get creative and invent something new!
Appointment Reminders
55% of consumers prefer SMS for appointment reminders vs 35% of consumers who prefer email for those notifications. Not only are text reminders convenient for your client, they could also lower or prevent the occurrence of no-shows. Have a client cancel last minute? Send a text to your clients letting them know you're available and see if anyone can come fill the slot!
With TextBack Ai 's ability to connect to Google Calendar using Zapier, it's never been easier to automatically send text reminders for appointments.
Today 7:30 PMStylez Salon appointment reminder: 4:00pm Tuesday, December 3. Reply 1 to confirm, 2 to cancel, 3 to reschedule.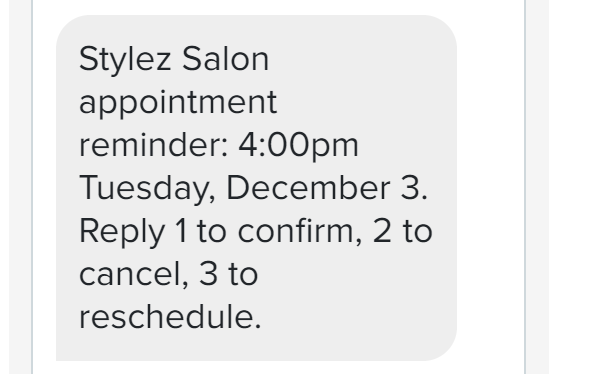 Exclusive Coupons and Discounts
Who doesn't love a deal? By creating special offers exclusive to your text subscribers you deliver added value to your program while maintaining customer loyalty. Because most texts are read immediately upon receipt, you can also send out time-sensitive offers as a great way to bring customers into your spa or salon during a slow period. When new or popular products are in stock, you can also text these details to your VIP followers giving them the privilege of first shot.Today 8:00 AM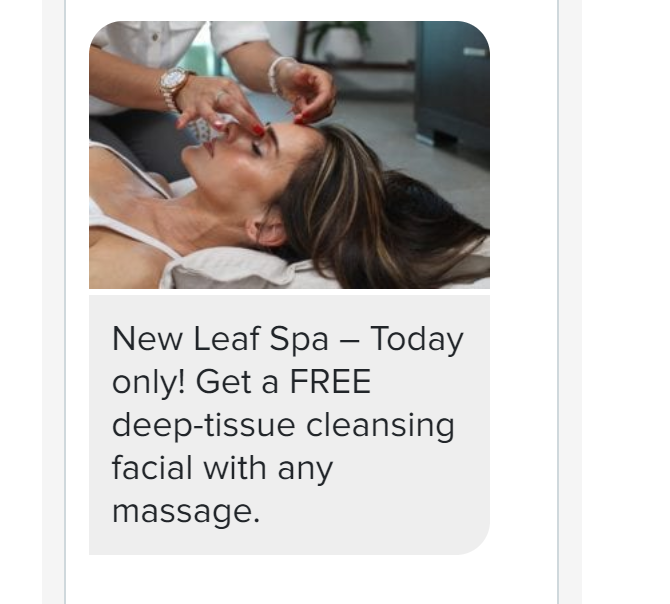 Events
As a spa or salon, sometimes just getting people in your door can be the key to landing new clients. Offering open houses, product launch parties, or procedure demos can be a great way to capture current and prospective client attention. Use text alerts to invite your subscribers to the event to ensure they know about it and can easily share it with their friends. With our link tracking capabilities you can even reward people who click on your event page.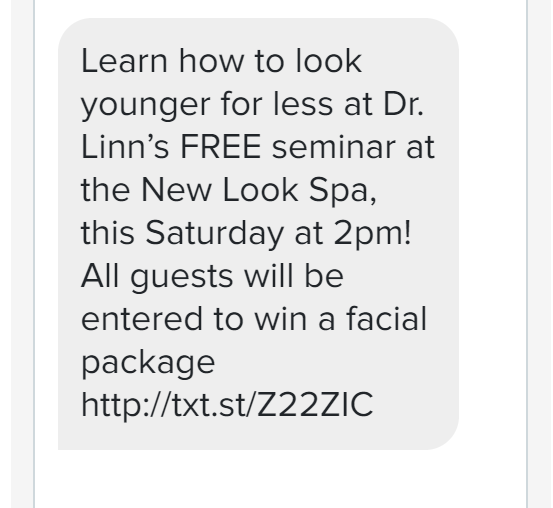 Contests
Spa and salon services can start to get pricy quickly. But the allure of the pampering and self care that comes from a treatment is often irresistible. Lean in to that fantasy and get your customers excited by running a sweepstakes. Give away an awesome prize, like a gift certificate or complimentary service. We make creating text to win sweepstakes easy. You just pick the keyword for participants to text in, and promote it. We'll handle the rest!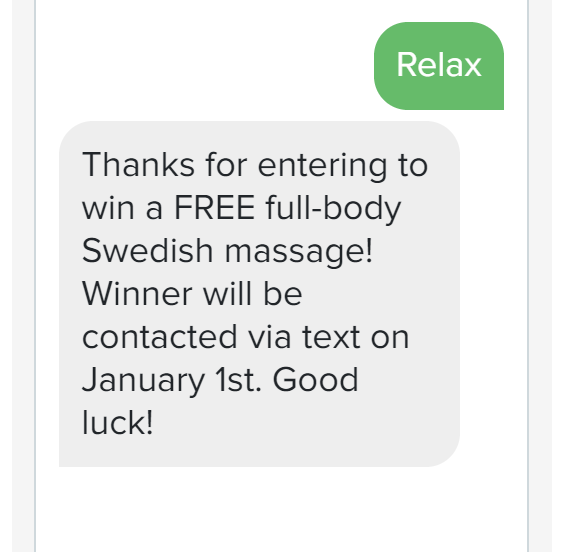 Beauty Tips
In addition to using SMS to support your spa or salon's bottom line, texting can also help you create brand awareness. Position yourself as an industry expert by texting weekly or monthly beauty and wellness tips. You can write a new tip every week or, with our Autoresponder feature, write a series of tips that new subscribers will automatically get once a week after they sign up.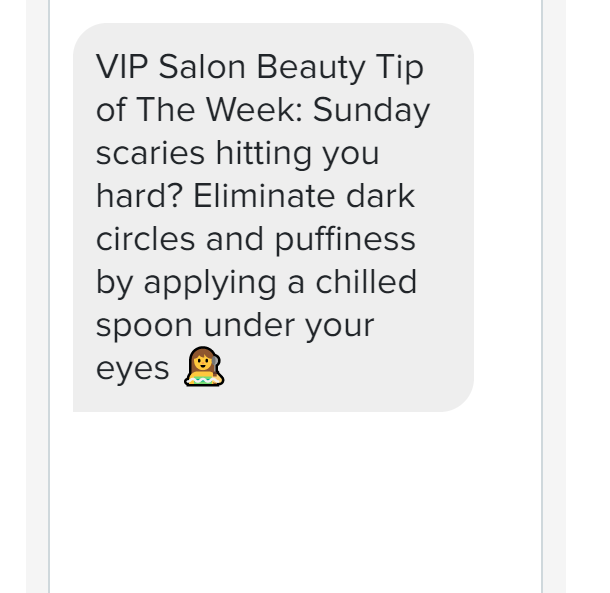 Get Feedback on Services
Text out surveys after a salon appointment or spa service to collect customer feedback. With our link tracking abilities you can find out who opened and completed the survey and send them incentives to post a review on Yelp or Google to help drive new customers!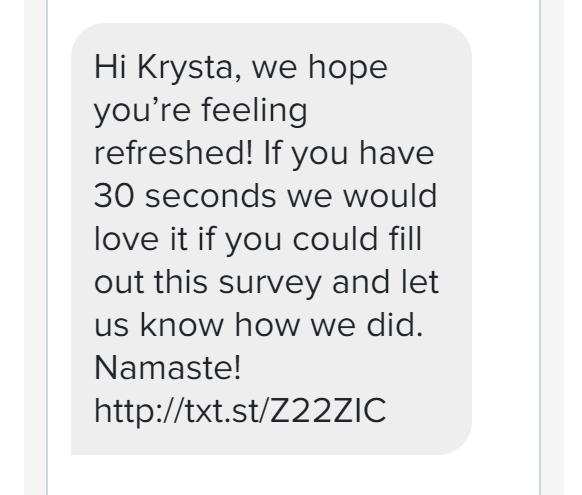 Communicate With Staff
Each aesthetician has regulars. However, each day there are also new clients who come into your location with no preference of who they see. In order to keep things fair and running smooth, you can utilize texting as a way to manage communications inside your spa or salon. Employees can text if they're out sick requesting coverage for appointments they can't change. Receptionists can text new bookings to each aesthetician to make sure they stay organized. No matter the need, the TextBack Ai platform will keep all your internal communications organized and professional.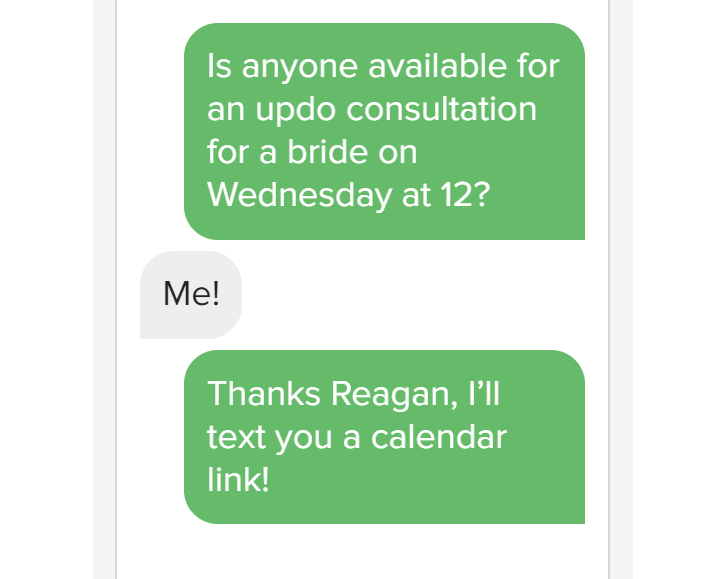 Share Forms
It's common for some spa or salon treatments to begin with filling out forms— pain points for a massage, allergy and injury notifications, verification of age, general consent to treat. Text these forms to clients to either print and sign, or provide an e-signature to save time and ensure appointments start on schedule.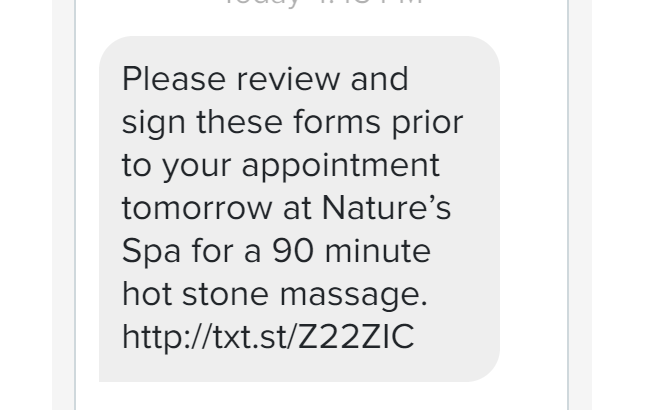 Create a Rewards Program
Loyalty is everything for spas and salons. Help your clients feel valued with texts on their birthday or rewards for # of consecutive services. You can segment your contacts into categories based on the length of the time they've been a customer, how much money they spend, etc. Tailor your messages to specifically cater to that status and you're sure to retain clients for years to come.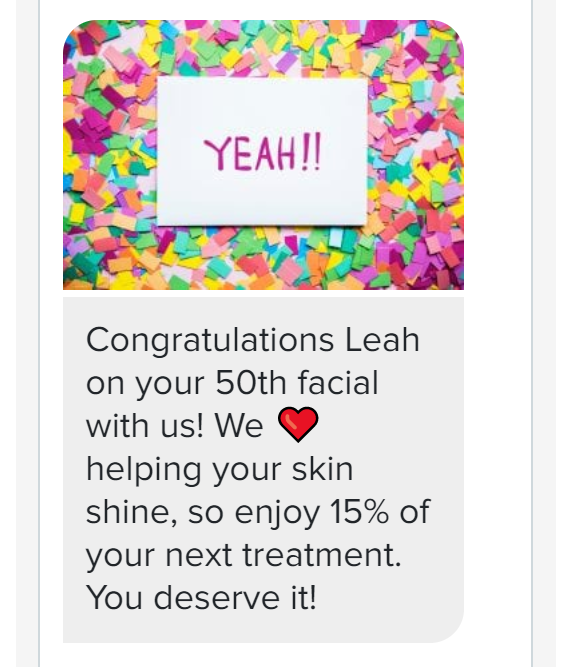 How to Get Started With Text Marketing for Your Spa or Salon
We've covered the benefits, but maybe you're still not sure exactly how to text. Luckily getting started is simple and we've created some really comprehensive videos and guides to walk you through it all. But at a glance here are the 1,2,3's of getting started with spa texts.
Text-Enable Your Number
Your clients are probably already familiar with your phone number, and our support team can text-enable your existing 10-digit landline. You will still receive calls as normal, but have the added ability to send and receive messages from our TextBack Ai dashboard or mobile app.
We can also set you up with a text-enabled local or toll free number, help you provision your own short code, or set you up with our complimentary shared code.
Next you'll want to reserve a keyword. This is your exclusive code that people will text to your number to get your messages. Your keyword should be easy to remember and represent your spa or salon. Remember to keep it simple. For example, if you operate "Famous Nails Salon", a good keyword might be FAMOUS. Or if you're running a sweepstakes to give away a free Swedish massage, consider using the keyword SWEDISH.
Gather Subscribers
The next, and arguably most important, step to getting started revolves around gathering subscribers (or contacts). If you already have a list of phone numbers of people who have given your spa or salon permission to text them, you can upload it directly into your TextBack Ai dashboard. Texting any numbers that you have not collected organically is illegal and strictly against TextBack Ai anti-spam policy.
If you're like many others, you're starting from scratch when it comes to building out your contacts. We've written a guide filled with helpful tips and best practices for you to work through if you're not sure where to begin. The main takeaway: stay visible!
Here are just a few ideas:
A window display or table tents at your storefront
Stickers with your keyword and number on salon mirrors
Collect business cards in a fishbowl near the register. Advertise it as a way to sign up for special discounts or to enter your sweepstakes
Drop in your business card for a chance to win a $100 gift certificate and receive other great discounts!
An eye-catching sign in your waiting area
A short notice on your receipts
A simple sign on your cash register —especially if you're offering an instant discount on their purchase!
Instruct your staff to share your number with everyone who calls or visits
Your massage is set for Friday at 4 p.m. Would you like to receive a text message reminder an hour before your appointment, along with monthly text coupons?
Pin your keywords or phone number to social media profiles
Put a sign up form on your website.
💡Texback's Tip: Your advertisement should also include two necessary elements: a disclaimer and a notice of frequency. The disclaimer simply serves to let the customer know that their normal costs for text messaging applies. The standard form of this disclaimer is "Message and Data Rates May Apply." The notice of frequency just means that you should inform guests of how many texts they'll receive. Best practice is to send 2 to 4 texts per month. Sending *significantly* more texts than advertised could result in some heavy fines.
Start Sending Messages
Once you start gathering subscribers you'll want to begin communicating with them! You'll begin to learn more about the best times to send texts as well as what your audience wants to hear. Use that feedback to help sharpen your strategy! If you find that you're spending more time communicating with clients on a one-on-one basis as opposed to text blasts, reach out to our support staff to discuss business texting.
Now is the time you also may begin exploring some of our advanced features that will separate you from the competition and help you save even more time. A couple of these features include…
Templates and Duplicates: Save time by reusing your frequently sent messages. For example, create templates for specific appointment types and cancellation replies.
Data Collection: Want to know more about your clients? Just create some questions to text out and we'll store your data in Custom Fields for use in future campaigns. Like name, birthday, favorite service or product, etc.
Schedule Texts: Set a specific date and time for your texts. Schedule messages hours, days, or months in advance then sit back, and relax. We'll do the rest.
MMS Marketing: MMS lets you enhance your text message campaigns with coupons, product images, and other rich media. You get up to 1,600 characters of text, too.
Get Started with SMS Spa & Salon Marketing for Free!
No matter your business goals, it's our job at TextBack Ai to support you along the way. Helping you succeed is like our hot stone massage.
If you're ready to give text marketing a try, we encourage you to sign up for testing.
And yes, it's really free. No credit card, no contract, just free.
When you're ready to upgrade to a paid account, just change your billing plan from the dashboard. Simple!
Interested in more industry guides? Read about text marketing for restaurants or retail.
More reading about SMS marketing:
Text messages for Entertainment