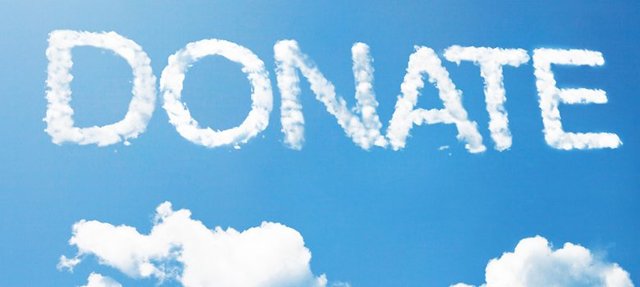 From the outside looking in, nonprofit work is all about the mission. Seldom does the general public see the work behind the scenes with resource development, marketing, and leadership. However, what may not be seen, is most certainly noticed.
Despite differing missions, services, and scope, all nonprofits have to focus on one thing in order to sustain growth: the donor experience. Discovering more efficient ways to engage your donors, as well as those you serve, is the cornerstone of nonprofit marketing. Through the power of text marketing, you can reach almost all of your supporters at once with custom messages and no delay.
How Does a Mass Texting Service for Nonprofits Work?
Texting is often referred to as the "Universal Inbox", and for the most part that's true. As of 2018, there were roughly 277 million people texting in the U.S. While texting is undeniably favored by younger generations, what's often not illuminated is that people aged 45-64 are the fastest growing demographic among mobile phone usage. 94% of smartphone users 70 and older are texting on a weekly basis!
These measures are important in the nonprofit industry as they shed light on the issue of traditional fundraising methods turning listless. Nonprofits around the country are looking for strategies to reach younger potential donors, but they're afraid to neglect they are loyal, and often aging, donor base. Mass texting is an unexpected, yet perfect medium for both demographics.
Keywords: SMS keywords are unique words that your stakeholders can text to your short code and opt-in to text messages from your business. From here, you can set up an automatic response that provides more information when someone texts your keyword.
Shortcodes: Shortcodes is a 5 or 6-digit number that customers can text to sign up for SMS updates.
Campaigns: A campaign is the series of text messages that you send to your subscribers list.
MMS: MMS (or "Multimedia Messaging Service") is a different type of text that gives you a longer character limit, as well as the ability to send photos, gifs, audio or video files.
Autoresponders: Autoresponders are messages that are sent automatically after someone opts-in to receiving text messages from you. With this feature, you can create a series of messages that send out over several days, weeks or even months that keep your audience engaged with your nonprofit.
Data Collection: The data collection feature helps you customize your messaging segments based on your audience's responses. You could ask questions as simple as their name or create custom fields to find out what they're interested in (e.g. volunteering, donating money, donating in-kind products, etc.) to better tailor your messaging.
Why Do Nonprofits Need a Mass Texting Service?
So, why is text marketing worth the investment? To begin, the investment itself is customizable based on your needs. We believe in fairly priced services.
But the common stigma that nonprofits don't have money simply isn't true. Yes, resources are often stretched, but what would be a more accurate depiction is that nonprofits don't always have the opportunity to "throw it at the wall and see if it sticks". When you invest your resources into marketing, it's done carefully. Luckily, text marketing has the stats you need to justify the investment. For starters…
Text messages have an average read rate of 98% and around a 40% response rate
82% of text messages are read within 5 minutes, but consumers only open 1 in 4 emails they receive
78% of US consumers say receiving a text message is the fastest way to reach them for important service updates and purchases
75% of people would like to have offers sent to them via SMS.
In business, SMS response rates are 295% higher than the rates from the phone calls
We could go on, but the underlying message stays the same. Investing in your donor experience through texting can help you tell better stories, create stronger asks and appeals, and reach more of your audience in need. Your story deserves to be told, it's time to start reaching more people with it.
Examples of SMS for Nonprofits
As a nonprofit, when it comes to connecting with your audience, you're often appealing folks to do three things: donate their time, treasure, or talents. So, here are a few examples of how you can use SMS to achieve those actions in addition to a few bonus suggestions useful to any organization!
1. Schedule and confirm volunteers via text: To help cut down on no-shows and overall maximize efficiency, consider using texting to schedule, confirm, and remind folks of their volunteer slots with your organization!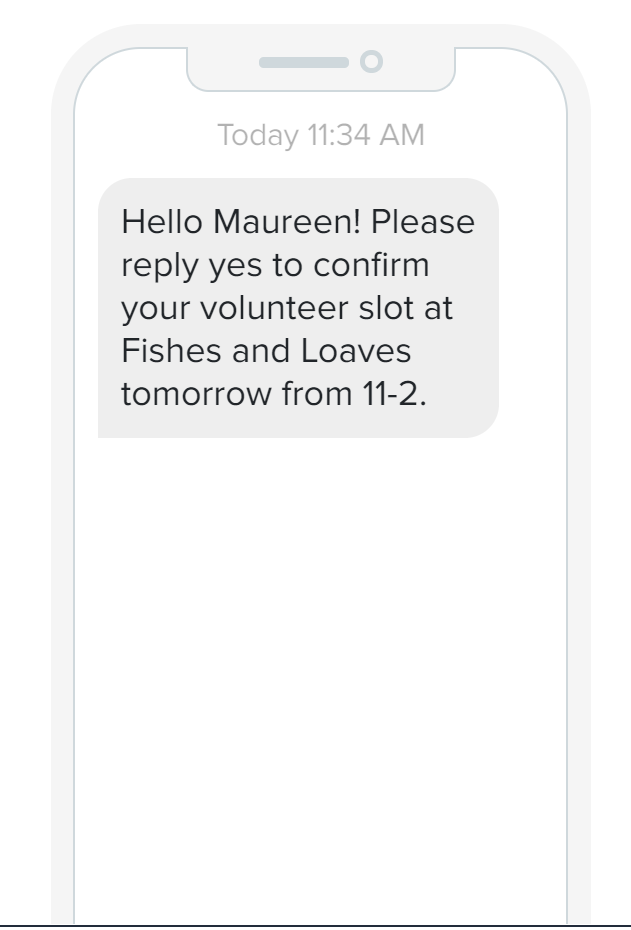 2. Send important volunteer info: Ensure your volunteers or visitors feel informed and prepared by offering them info via text such as: directions, parking instructions, clothing/equipment requirements, and more. Consider keeping this info in a template to save you time!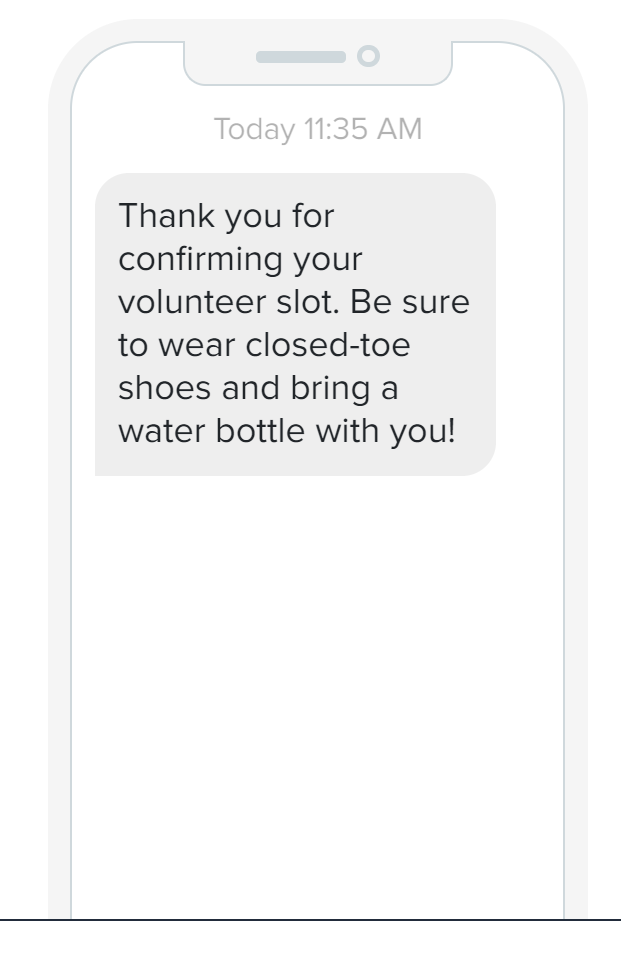 3. Field frequently asked questions: In nonprofit work there are often lots of FAQs. People wondering how to get involved, what items they can donate, and much MUCH more. Cut down on the time you're spending back and forth on email or over the phone by allowing people to text in their questions! You can create templates that will take care of these questions for you all while providing a top-of-the-line "consumer" experience.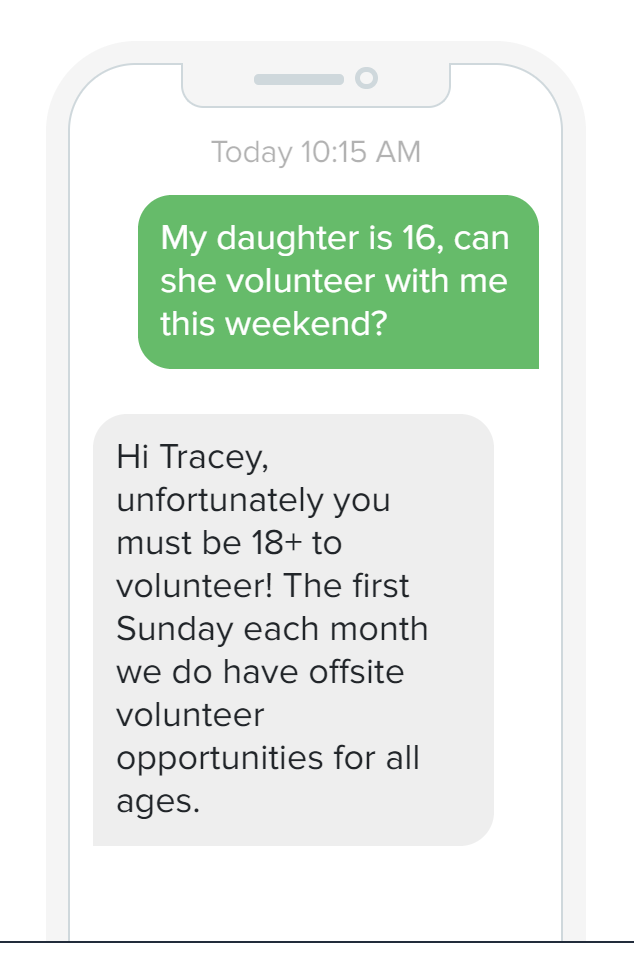 4. Follow up with donors: Carriers prohibit the practice of soliciting money or donations by SMS. However, even if you can't use text-to-donate, texting is a great way to follow-up with people after they've donated on your website or in-person. Collect phone numbers, then send a thank you message with more info about how their donation will be used.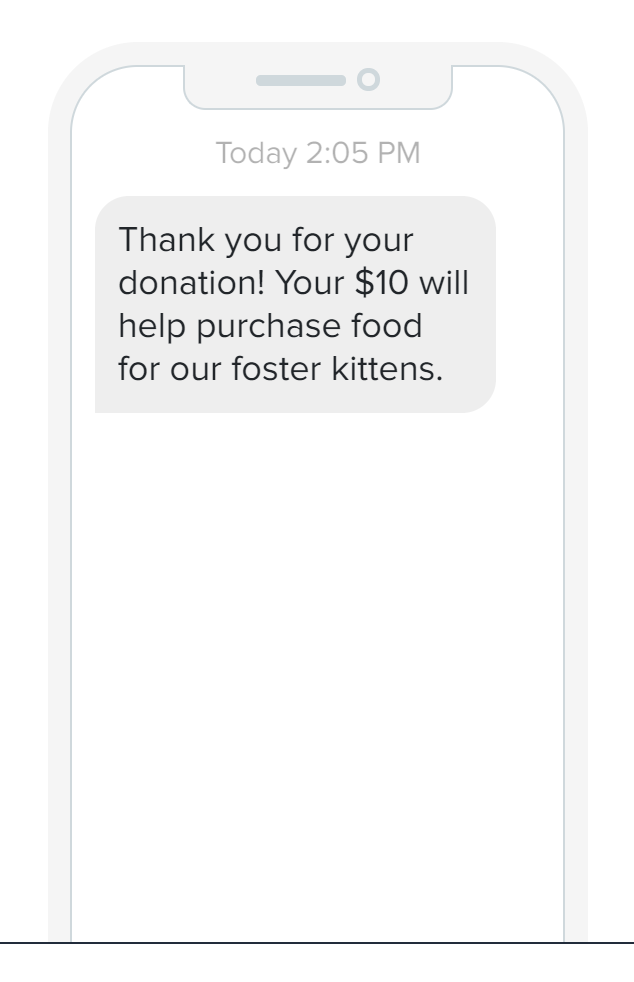 5. Pledge reminders: A great way to serve your reoccurring donors is through pledges. However, keeping up with pledge reminders can be time-consuming and they can often get ignored. Make it easier by automating pledge reminder texts to donors!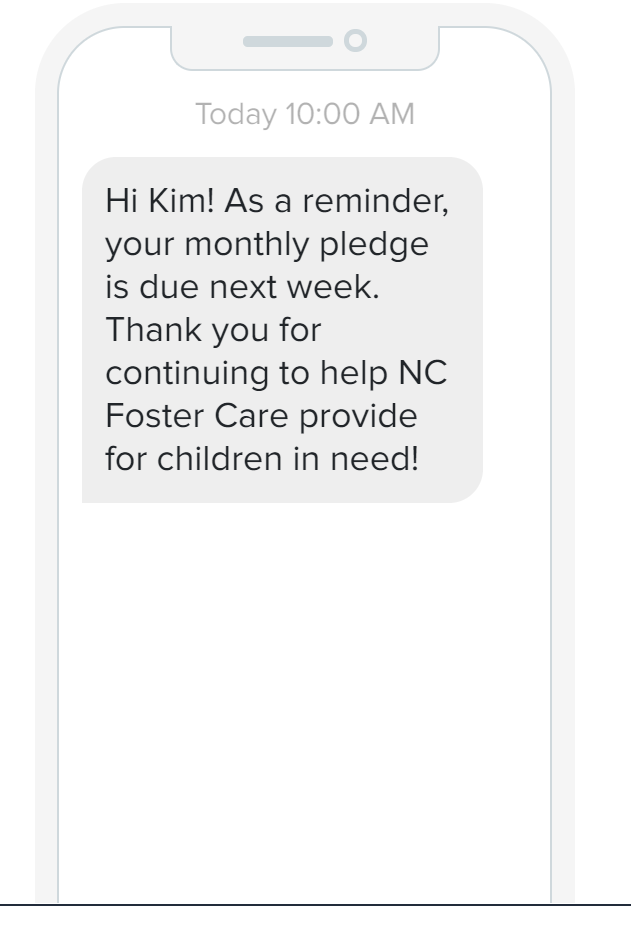 6. Send SMS appeals: Connect with donors for seasonal or specific asks via text. With the option to customize specific fields, your ask will be just as personal, if not more so, than a typical email or direct mail appeal. By utilizing MMS you can also include rich media like photos and video to help tell your story.
Today 12:10 PM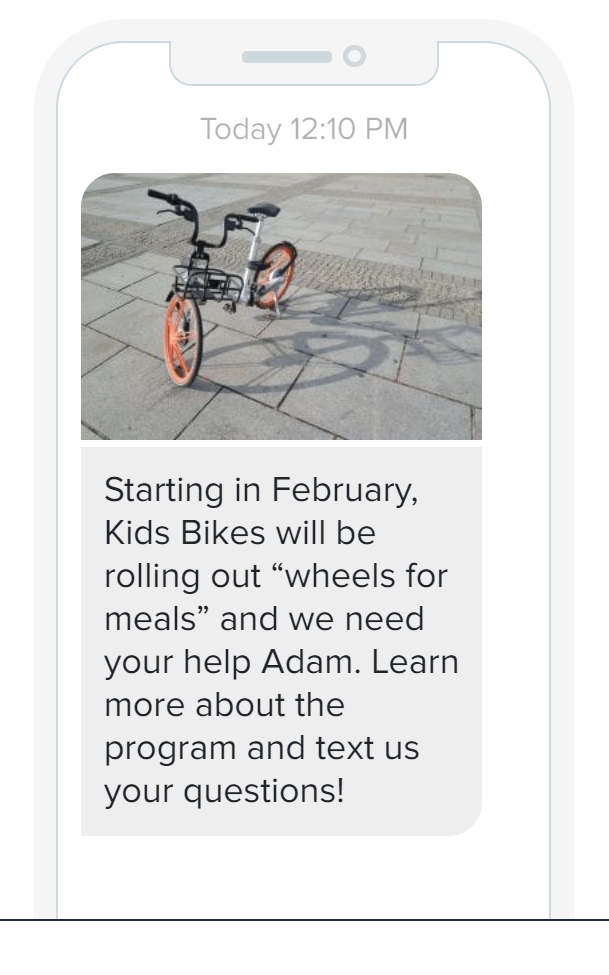 Starting in February, Kids Bikes will be rolling out "wheels for meals" and we need your help Adam. Learn more about the program and text us your questions!
7. Create interactive events and fundraisers: Make events like luncheons, 5ks, or auctions interactive by creating a text-specific keyword for your nonprofit. Allow people to take action on the spot by texting in your keyword to become a donor, bid on an item, or ask a question. Advertise your keyword around the event or promote it on social media (like you would a hashtag).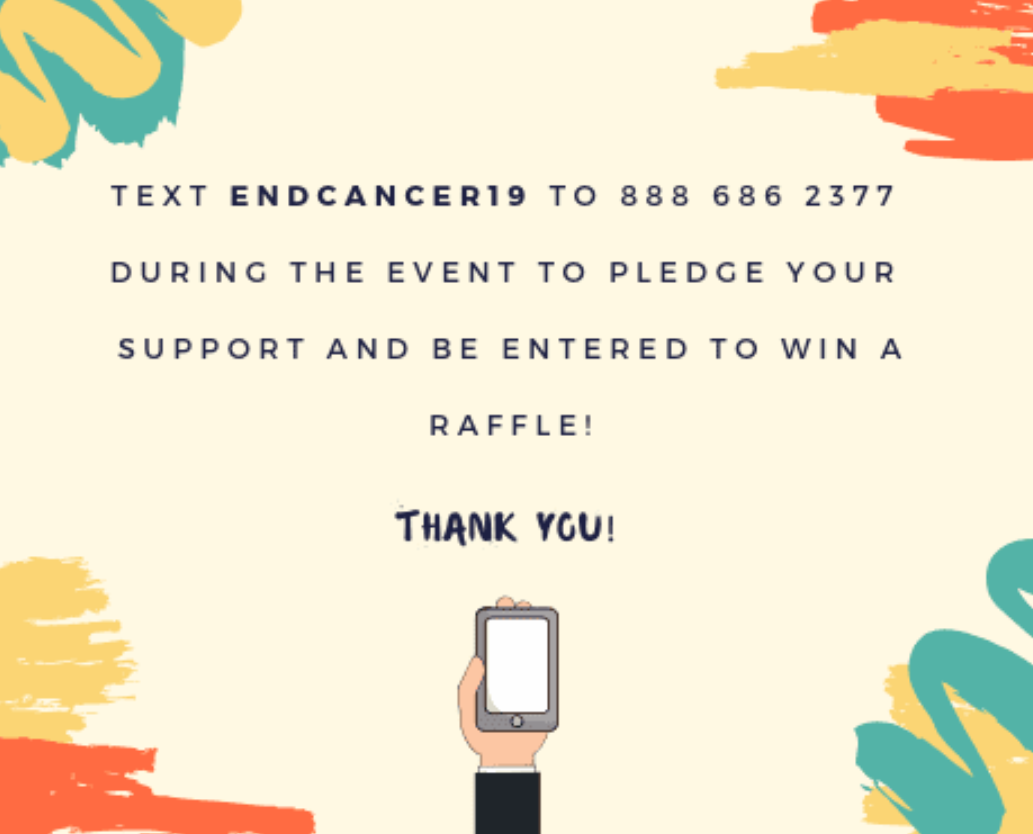 8. Utilize texting to communicate with your staff: Send out important updates, employee incentives, and general news through text to ensure your communications are being read. With TextBack AI you can have an unlimited amount of contacts associated with your account. Each contact can be segmented into a list to make department or location specific communications easy.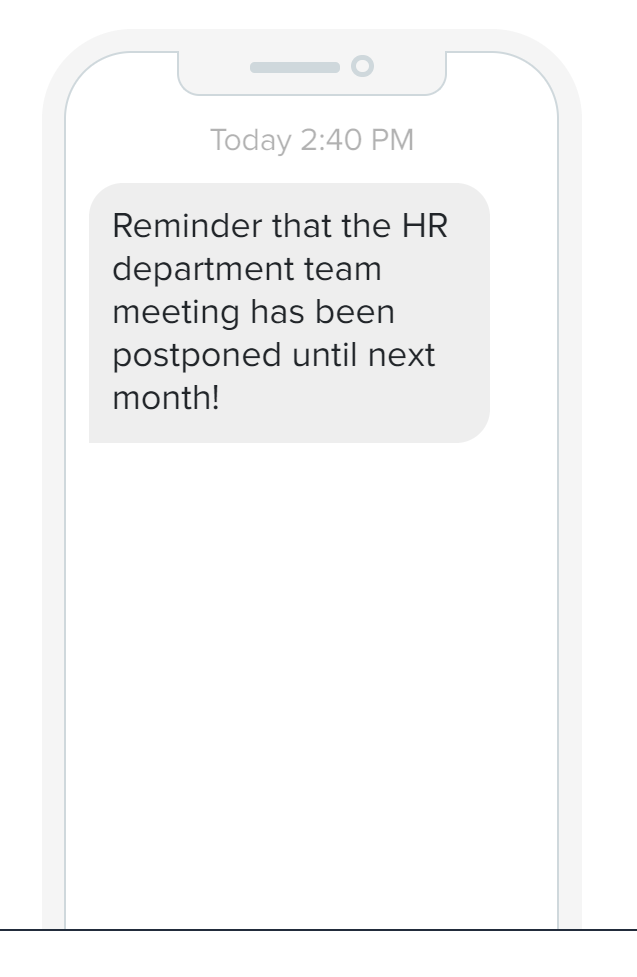 9. Communicate more effectively with your Board of Directors: Connecting with your board can be difficult given their typically packed schedules. Create a more direct line to them with texting that can be utilized for sending board briefs, updates, or even polling!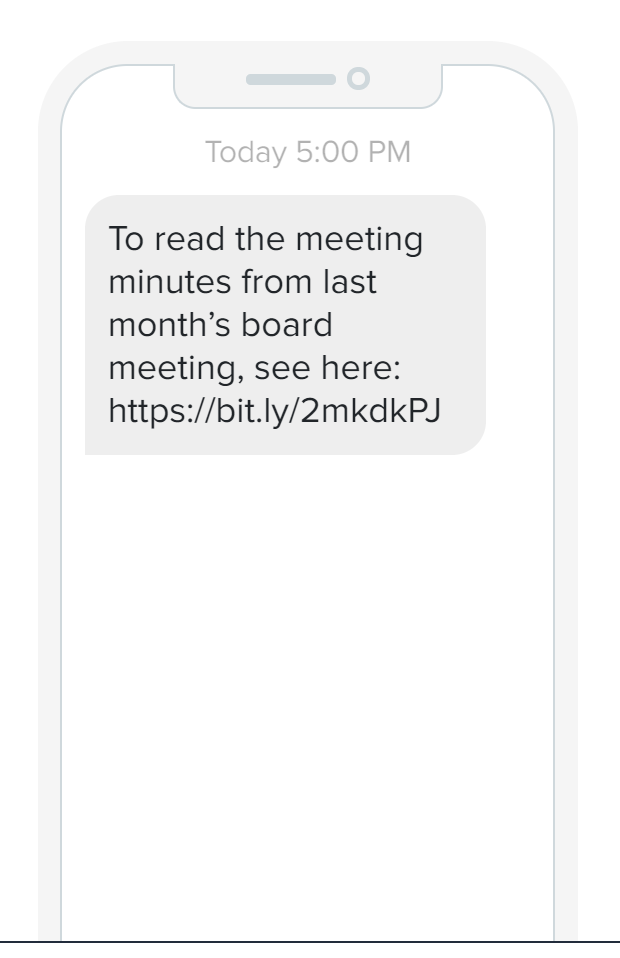 10. Promote your e-news: A lot of hard work goes into your digital communications, and texting isn't necessarily meant to replace them all. They can however be a great aid to boost their success. For example, send out a text to your subscribers reminding them to check their inboxes (and their spam 😩) for your latest newsletter! If you're looking to cut direct mail costs, consider texting out a link to your annual report. Link tracking will allow you to see who read it and follow up accordingly.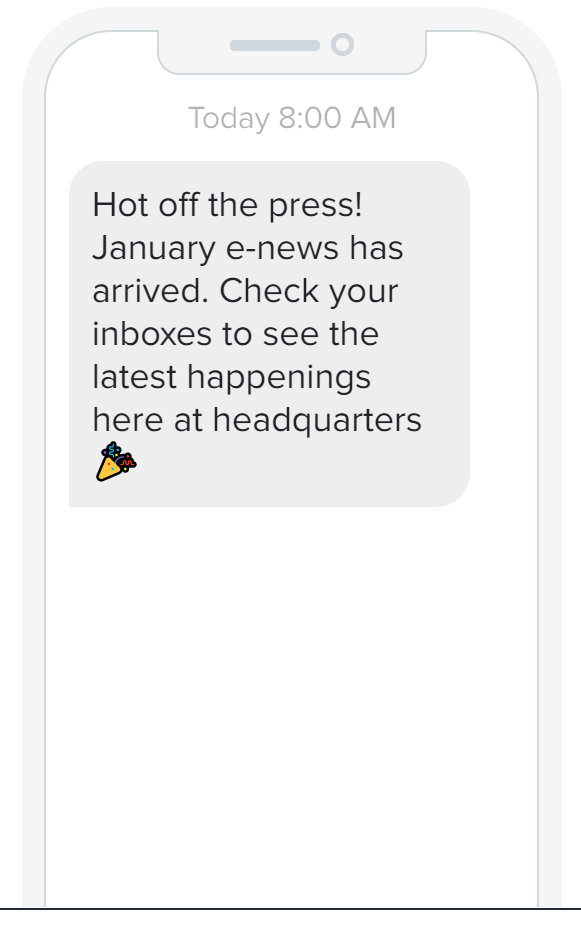 11. Share information: If you're not connecting with donors, odds are you're communicating with the public you serve. You can use texting as a way to share important tips and information with them, like locations of soup kitchens or healthy eating tips for life in a food desert.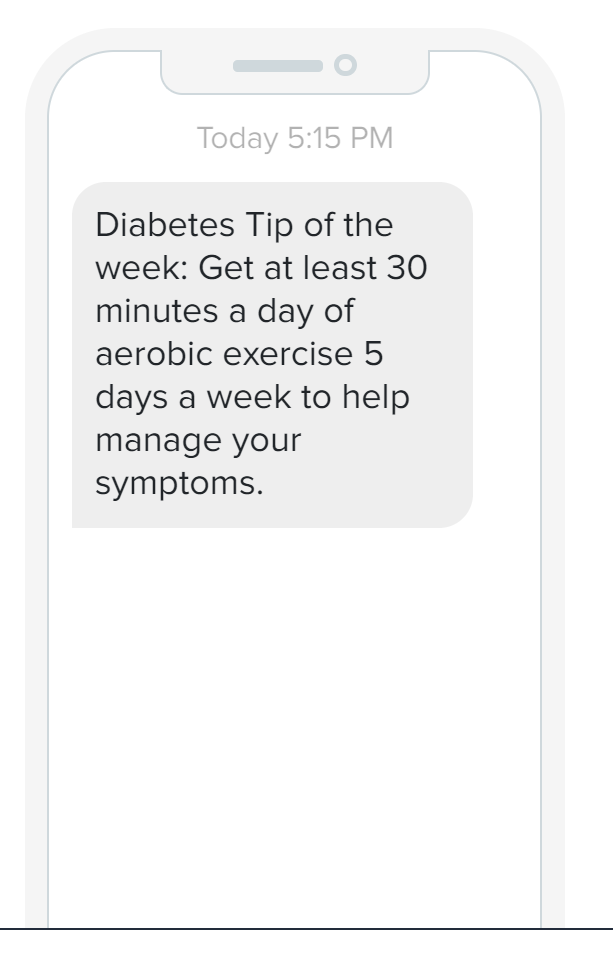 How to Turn Your Supporters Into Subscribers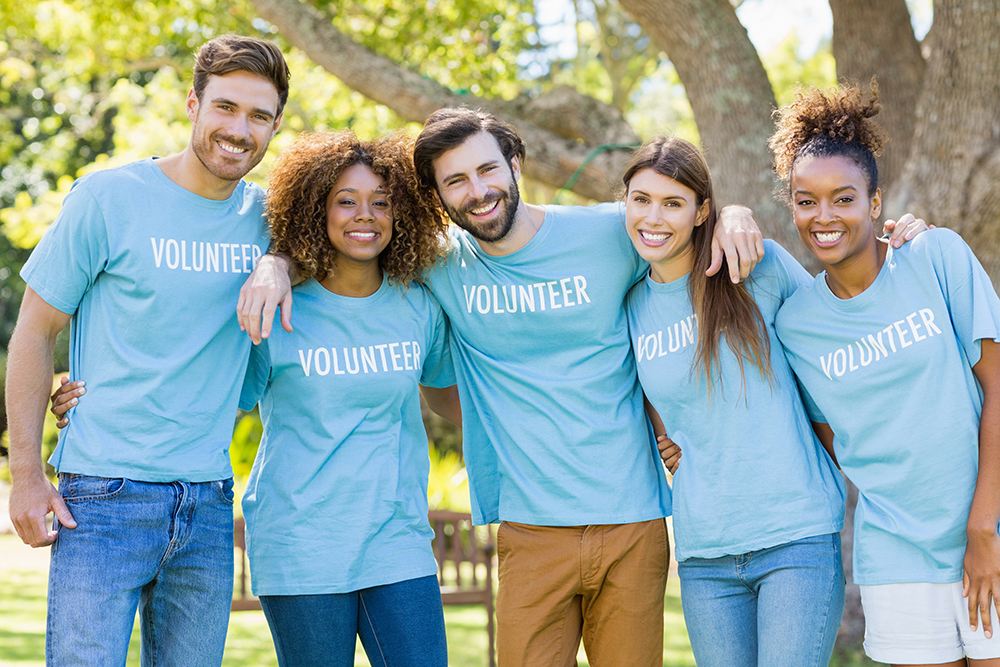 Now that you have a better idea on how you can utilize text marketing, let's go over some tips on how you can ensure your messages are reaching your audience.
If you already have a list of phone numbers for donors, don't go texting them all right away. Unless they have given you express consent to receive text messages, legally you're unable to begin sending them promotional messages. If you ever have questions about consent, send us a message and we'll be happy to help.
How Do I Set Up a Mass Texting Service for my Nonprofit?
Need a custom pricing plan or a feature to fit your needs? No problem. Tell us what you need and we'll be happy to design a plan to suit you.
We're here to support you, support the world! Try TextBack AI today.
More reading about SMS marketing:
Text messaging for Real Estate
Text messaging for Entertainment