Managing the policy (or policies) for just one client can feel like a lot. You're juggling lengthy policy documents, payment reminders, claims, and life changes on a revolving basis. Hiring an assistant isn't cheap, but sometimes your workload can keep you from pursuing more revenue opportunities.
If you're looking to save time and money, build stronger client loyalty, and engage new customers, you don't have to look far beyond your cellphone to find an answer. Hundreds of insurance agents across the country have already turned to texting and SMS marketing solutions as a way to grow their client base and provide better customer service.
How to Best Use SMS Insurance Solutions?
Insurance America predicts that one in four insurance agents will retire in the coming years. Statistically, this means your staff could be reduced by up to a quarter! Finding ways to protect yourself so your clients don't feel these effects is crucial to protect your reputation in the industry.
By harnessing the latest technology you can build out systems that operates 24/7, with minimal need for physical human intervention. Texting has the ability to serve specific needs to the insurance industry such as:
Text alerts—one single system can proactively send alerts, updates, and notifications to clients based on their preset communication preferences. This comes in handy with claims-related communications and updates specifically.
Documentation is crucial for insurance agents. Detailed reports of all your correspondence can protect you as well as make report writing a great deal simpler. Because all text messages are automatically saved (and automatically organized by client) you can pull up an entire conversation history within seconds.
Internal communications with your staff are equally as important when it comes to staying organized. Emails can be missed and voicemails ignored, but texts are read 90% of the time within 3 minutes of receipt. Examples of common texts sent internally include event reminders, office closings, server or other technology issues, weather alerts, employee benefits, etc.
Outside of industry-specific uses, texting is popular among consumers too. But don't just take our word for it…
Text messages have an average read rate of 98% and around a 40% response rate.
97% of Americans, in particular, text at least once a day.
78% of US consumers say receiving a text message is the fastest way to reach them for important service updates and purchases
91% of users who opted in to receive texts from a brand see those messages as "somewhat" or "very useful".
In business, SMS response rates are 295% higher than the rates from the phone calls.
How SMS Insurance Solutions Really Work for Agents?
We've already written an in-depth guide with everything you need to know about SMS marketing and its many features. There are however a few key things to note that will help you, as an insurance agent, get started.
Keywords: SMS keywords are unique words that your clients can text to your number and opt-in to text messages from your business. From here, you can set up an automatic response that provides more information. Many agents choose to send a link to their website or form.
Data Collection: Using keywords and data collection, you can also request info from customers directly in the text message conversation. Ask questions as simple as their name or create custom fields to find out what insurance they're interested in (e.g. vehicle, renters, life, etc.). Based on their responses, you can create customer segments to better tailor your messaging.
Campaigns: A campaign is a text message that you send to a group of contacts.
MMS: MMS (or "Multimedia Messaging Service") is a different type of text that gives you a longer character limit, as well as the ability to send photos, GIFs, audio or video files.
Autoresponders: Autoresponders are messages that are sent automatically after someone opts-in to receiving text messages from you. With this feature, you can create a series of messages that send out over several days, weeks or even months.
Templates & Duplicates: Save time by reusing your frequently sent messages, campaigns, inbox replies, autoresponders, and keyword confirmation messages.
Sample Texts to Use When Setting Up SMS Insurance Solutions
Policy Payment Reminders Help your clients never miss a payment by sending them automated text reminders before their bill is due. Another added courtesy includes sending payment confirmations— the added documentation not only protects clients but your agency as well.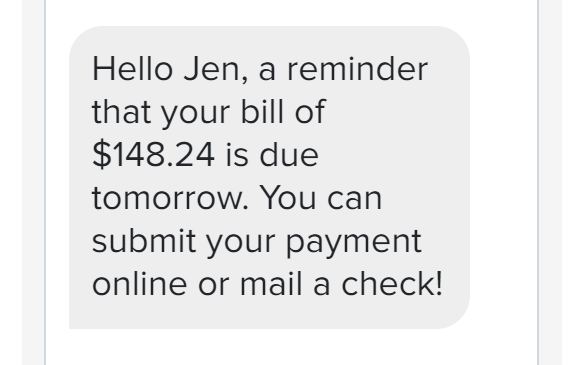 Schedule Meetings and Appointments
Not all business can be conducted over the phone, especially for some of your larger, corporate accounts. Save time by automating the process of setting up face-to-face meetings and appointments through text requests and by sending text reminders to cut down on no-shows.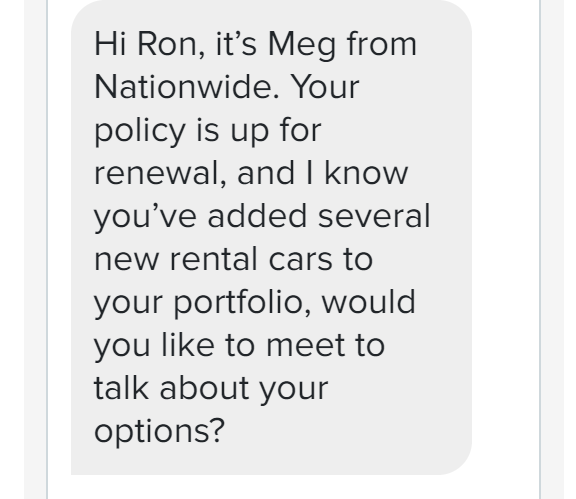 Check in During Major Life Updates
Your client's personal lives will oftentimes impact their coverage. By establishing a good rapport with customers you can stay on top of these changes by enabling 2-way communication. Dropping in with messages every now and again will help you stay ahead of the transitions!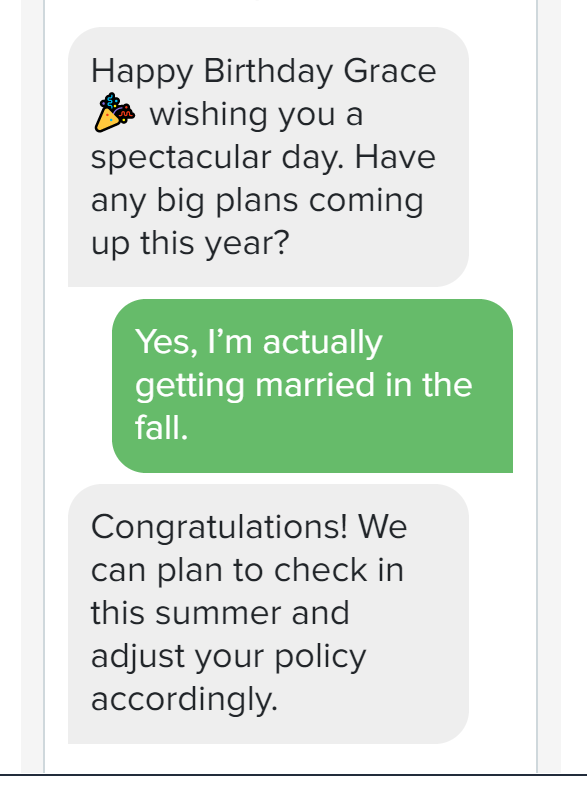 Encourage Customer Reviews
Soliciting reviews from customers in order to stand out from the competition is easy with SMS. Simply follow up each chat with your request and a link to the site you want them to post on.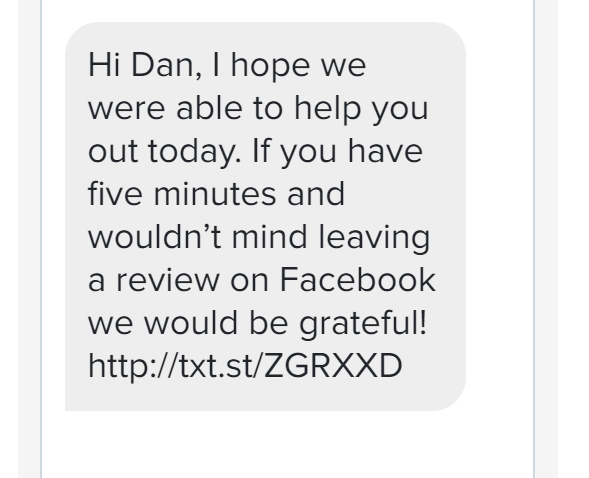 Share Pictures to Make Submitting Claims Easier
If a client gets into an accident, photos can make the claim process a lot easier for both parties. Allow customers to text you pictures while they're still on the scene and you can respond much faster.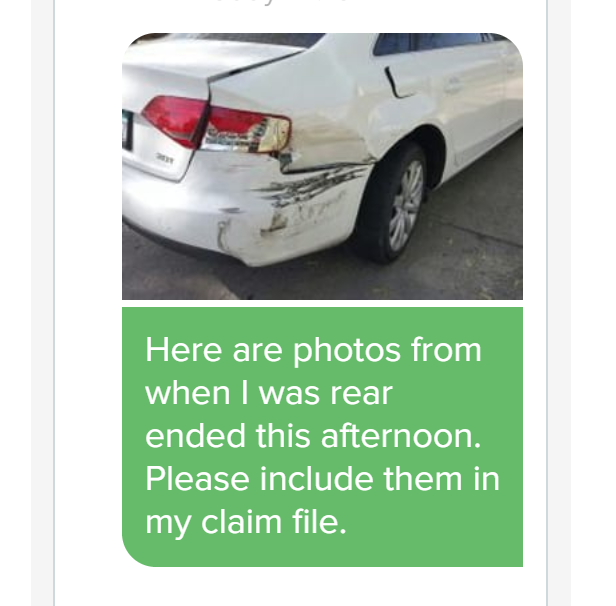 Notification of Settlement Details and Amounts
Waiting to hear back about a claim can be stressful. Put clients at ease by texting them updates throughout the process.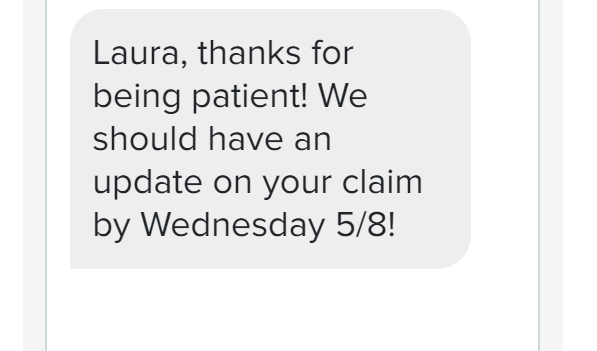 Alerts on Expiring Policies
Don't let clients slip away. Encourage renewals well in advance of a policy's expiration date. Along with the notification of the expiration, you can send along deals and incentives that will sweeten the deal for resigning.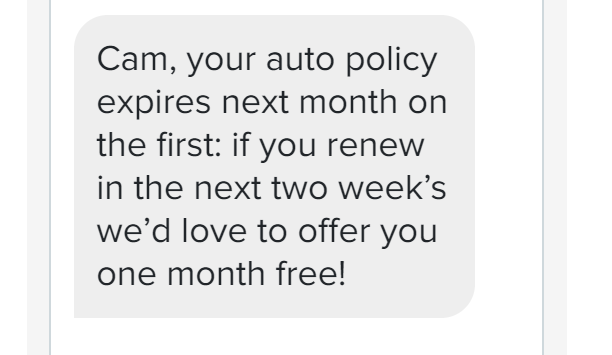 Disaster and Weather Alert Notifications
When it comes to how assets are protected during natural emergencies, you want to make sure everything is done to protect property. Help clients get ahead by sending weather and disaster alerts that keep customers informed as well as tips and tricks that can help protect their property.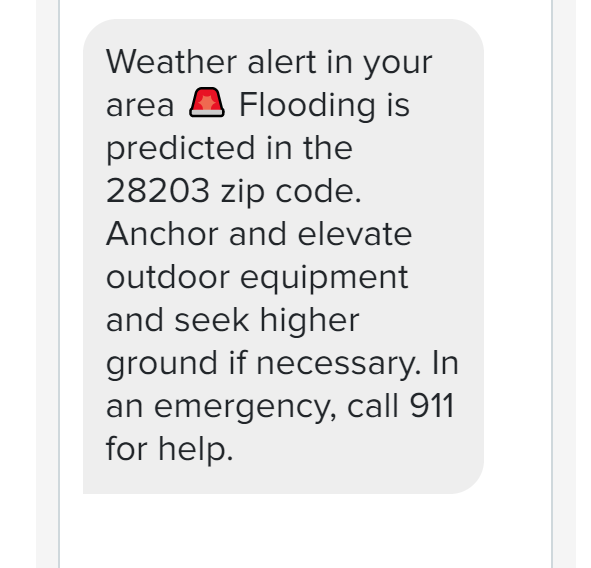 Four Steps to Get Started With Insurance SMS Marketing
Odds are that sending at least one of these texts will free up hours for you that were otherwise consumed by busywork. So, what does it really take to get going with text marketing? We're pleased to tell you that getting started with SMS only takes a few steps:
1. Choose a Number to Text Enable
When it comes to text enabling your business, you have a few options. First, if your business already has an existing 10-digit landline and toll-free number, you can choose to text enable it. You can also opt to get set up with a new local 10-digit number, for added familiarity. Larger agencies may want to consider using a dedicated short code.
2. Reserve Your First Keyword
Once your business has a number squared away, you want to reserve a keyword. This is a short, memorable, word or phrase unique to your company. A keyword can be anything, but if you're utilizing a shared short code, you cannot use a keyword that has already been claimed. An example of a solid keyword for your insurance agency could be a combination of your company's name and the type of insurance you offer: NationwideAuto, AllstateHome, GeicoBoat.
3. Upload Existing Contacts
If you already have phone numbers for some of your customers in an existing database, you can upload them directly into Textback. However, each person on your list must have given express written consent to receive messages from you. Texting any numbers that you have not collected organically is illegal and strictly against Textback's anti-spam policy.
4. Advertise Your Text Marketing Program and Attract New Contacts
All of the text examples above are great, but they won't work if you don't have people to send them to! Building out a strong subscriber list is just as important as writing your campaigns. Unfortunately, you won't build out your list without putting in some work. Luckily, we have some ideas to help get you started.
Ways to Build Your Insurance Agency's Subscriber List
A strong subscriber list is the foundation for success for any text marketing program. In order to encourage customers to sign up, you need to provide added value.
There are a lot of simple solutions that will give your text marketing program the visibility it needs to succeed. In our experience, the toughest part is just getting started. Give some of these a try to get past the startup hump:
Sign up form on your website to hook potential new customers
Social media posts sharing your keyword and number.
When a new client applies for a policy and provides their cellphone number, add a consent box for them check to receive texts.
Encourage employees to update their email signatures with your text-enabled number and keyword.
Put up signage in any brick-and-mortar locations advertising your text marketing program.
Anywhere where your brand is, information about how to join your texting program shouldn't be far behind. At the end of the day success starts internally, so be sure your team is educated on the program so they can become your best ambassadors.
More reading about SMS marketing:
Text messages for Entertainment