Patient care should be the number one priority for all healthcare practices. But the reality is that running a medical office involves a lot of other tasks - managing employees, processing forms, working with insurance companies and, of course, scheduling appointments.
If you run your own practice, you know how frustrating missed appointments can be. No-shows don't just waste valuable time, they hurt revenue too.
That's why some form of an appointment reminder system is standard practice at most facilities. However, in order to implement a successful appointment reminder system, you must first understand why no-shows occur in the first place.
Why Do Patients Miss Appointments?
The Medical Group Management Association (MGMA) is a professional organization comprised of over 45,000 medical practice administrators, executives, and leaders. In 2017, they conducted a survey of over 143 patients to understand how medical offices can optimize their scheduling efforts.
Source: Maximizing Patient Access and Scheduling Report by MGMA
Of the patients who had missed an appointment in the last year, most (52.4%) reported that they simply forgot to attend or cancel. 28.6% cited that they wrote down the wrong time or date, and 23.8% said they had to miss the appointment due to other issues such as traffic or work.
Reduce Missed Appointments With SMS Appointment Reminders
It goes without saying that you can't control traffic or work conflicts. However, you can do something about the 81% of appointments that are missed due to forgetfulness or miscommunication.
For years providers have relied on traditional appointment reminder methods, but they often aren't enough.
Postcards sent through the main are slow, and often trashed as junk mail.
Phone calls can be untimely and intrusive. You can leave a message, but there's no way of knowing when the patient will listen to it.
Email alerts are becoming increasingly popular, but most inboxes are already overflowing with messages. Many emails are ignored and spam filters can keep your reminder from seeing the light of day.
Would People Want to Recieve a Text Reminder? Let's ask them.
That's exactly what the MGMA did in their 2017 survey. The patients reported several ways their practice could have helped them keep their appointment. 38.1% said a reminder via text message would have helped. That's 14.3% more than those who said phone calls would have helped and 19.1% more than those who said email reminders.
Source: Maximizing Patient Access and Scheduling Report by MGMA
The data is clear: text reminders are the preferred way to inform patients about upcoming appointments.
Just like any business, your medical office shouldn't waste valuable time or spend money on ineffective marketing tactics. Why manually contact patients when you may just be ignored? Text message appointment reminders cut down on phone time and lower your overhead.
How Can SMS Appointment Reminders Affect Your Practice's Bottom Line?
Overbooking can lead to patient dissatisfaction. Leaving unfilled openings, on the other hand, can have a serious effect on productivity and revenue. Want to find out just how much money your practice can be losing due to no-shows? Follow this simple formula:
Why are SMS Appointment Reminders So Effective?
By now it's clear that patients prefer text messages, but what is it about SMS that makes it so useful for reducing no-shows? Unlike emails, phone calls and postcards people always read their texts. There's no app to install and texts work on every cellphone. Consider the following:
Texts are read instantly.
Emails may sit in inboxes for hours or days before they get opened. 90% of texts are read within 3 minutes of receipt!
Texts are friendly and unobtrusive.
Patients can check their texts even if they're not available to answer a phone call. And they can easily refer back to the text later if they forget their appointment time.
Texts are never ignored.
Less than 1% of all text messages go unread. There's no spam box for them to go to, and the notifications can't be turned off.
Learn How to Write an Effective Text Reminder
You've seen how texts can help and you're ready to start sending messages. To ensure the success of your appointment reminders, make sure your messages meet the following guidelines:
Keep your messages succinct and easy to read
Include the date, time and location of the appointment
Ask patients to reply Y or N to confirm
Remind patients to bring the necessary paperwork
Send messages between noon and 5 pm
As we mentioned above, many no-shows occur because patients write down the incorrect time That's why it's essential to include the appointment details in your reminders. And by asking patients to confirm appointments via text, you can cut back on the large percentage of people who simply forget to cancel.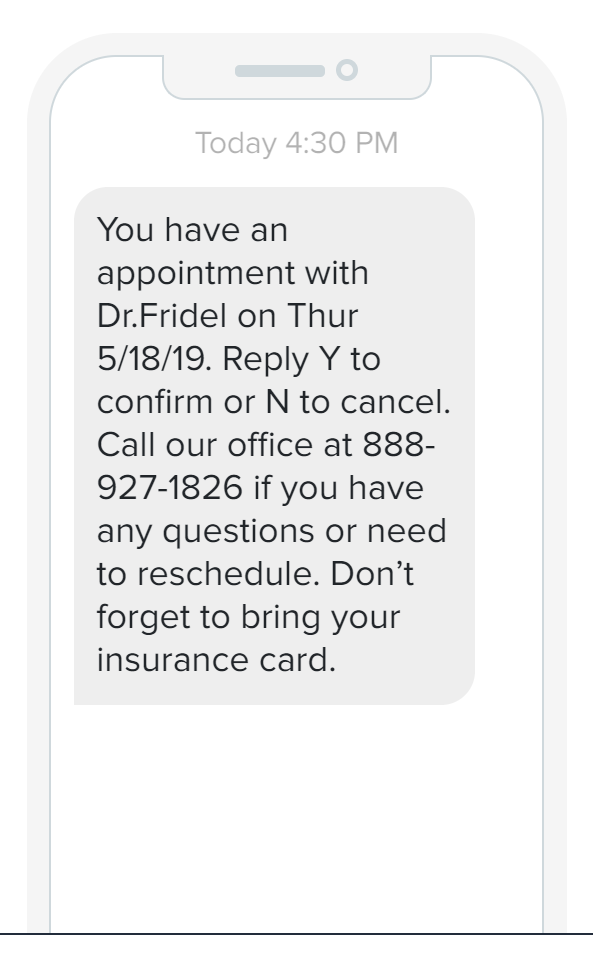 Take a look at the text above. It follows all of the best practices for patient text appointment reminders. Notice that it doesn't include any sensitive or confidential information. This is crucial to complying with HIPAA regulations.
What Else Can Medical Offices Do With Text Messages?
We've spent a lot of time explaining why medical offices should use texts for appointment reminders. Our happy customers in the healthcare industry also use SMS for a variety of other purposes:
Keep doctors and staff informed
Notify your staff of important schedule changes or general announcements. Create lists of contacts for specific teams or departments.
Get shifts covered quickly
You can reach large groups at once using text messages. Let your entire staff know as soon as you need a substitute to cover a shift.
Send patient satisfaction surveys
Our two-way messaging features allows you to receive incoming SMS messages at no cost. Use texts to send polls and surveys to find out how your healthcare practice can improve.
Alert patients of new test results
Reach out to individual patients with important information. Include secure links to test results as soon as they're ready.
These are just a few of the ways that SMS for healthcare can bring your office into the 21st century. Use texts to keep your patients happy, your staff useful, and your profits in perfect health.
Promotional Messages vs. Transactional Texts
Before you start sending appointment reminders or advertising new services, you need to collect your clients' numbers and, in some cases, their consent. First, we'll cover a crucial distinction between two types of texts and how it applies to medical and dental offices.
Transactional messages are any texts "facilitating, completing, or confirming a previously agreed-upon transaction."
Promotional messages, on the other hand, are any other texts that aren't directly involving an existing transaction.
Why is it important to know the difference between promotional and transactional messages? By law, you're required to get a patient's express written consent to receive any marketing texts, whereas transactional texts may require a lesser form of consent.
What does this mean for your office? As shown in the table below, appointment or checkup reminders are transactional texts, and as such, do not require a patient's consent. That means if you have their cell number on file, you can send them a friendly reminder text with no hassle.
| | |
| --- | --- |
| Transactional Texts | Promotional Texts |
| Appointment reminders | Reminders to schedule next appointment |
| Checkup reminders | Advertising new services |
| | Health tips |
| | Patient satisfaction surveys |
If you'd like to send promotional messages, your patients have to opt-in, or subscribe, to your messages. This can be as simple as texting your designated keyword (e.g., "DRSMITH") to 47177. They can also opt-in using a form on your website.
How to Get Patients Enrolled in Your SMS Appointment Reminders
Ask while scheduling
If you don't have a patient's number, or even if you do, it's easy and polite to ask if they'd like a text reminder when scheduling an appointment. Ask when they'd like to receive their reminder and what number works best.
This is also a great time to ask if they'd like to receive other texts, such as weekly health tips, reminders to schedule new appointments, or alerts about new services available.
Add a sign-up form to your website
If your patients have the ability to schedule appointments online, this is the perfect opportunity to enroll them in your text reminder service. Our platform makes it easy to create an embeddable sign-up form and add it to your website.
Waiting room displays
Your patients are already on their phones while waiting for the appointment. Place a sign, placard, or notice somewhere prominent in your waiting area. The display should contain simple instructions to sign up for your new text reminder service.
We've helped hospitals, dental offices, and private practices across the country see success using texts messages. Our customer support team is here for your seven days a week. Just click the blue chat bubble at the bottom right to talk to an expert about your specific needs.
More reading about SMS marketing:
Text messages for Entertainment