SMS marketing for ecommerce has become quite popular recently. Research has shown that every ecommerce platform sends messages to its customers, whether promotional or transactional.
SMS marketing tools are the new trend in the ecommerce business, and we'll explore every aspect of having a robust and reliable SMS marketing campaigns strategy in detail.
Marketing Challenges for Ecommerce
Researchers have identified three main barriers facing ecommerce retailers.
Price Has Become the Main Differentiator for Ecommerce Businesses
Problem: Consumers are always on the prowl for the highest-quality items at the lowest prices. With more and more online retailers, the pressure rises to keep your prices competitive while remaining profitable.
Solution: Text marketing allows you to deliver a personalized customer experience, adding value to your product(s). This added service can justify the price differential you're facing with competitors.
Ecommerce Businesses Are Struggling to Satisfy Consumers' Heightened Expectations
Problem: Ecommerce giants like Amazon have pockets deeper than the Marianas Trench. Their ubiquitous presence and ability to provide "gold standard" customer service can create high standards which are challenging for smaller ecommerce sites to meet.
Solution: Text marketing allows you a direct and personal connection to your customers. You're able to give each subscriber personalized communications based on their interests and preferences.
Customer Engagement on Ecommerce Sites Has Become Transactional
Problem: Similar to the issue of price, consumers are having increasingly negative experiences with online retailers when their expectations aren't met. A lack of personalization has resulted in a sterile brand relationship.
Solution: Utilize text marketing as both an avenue for sales as well as a customer management platform. The benefit of text marketing is its emphasis on two-way communication. Opening up a personalized ecommerce platform for their shopping experience can reflect positively on the entire brand.
Useful Text Marketing Features for Ecommerce
Let's get down to brass tacks. There are a lot of features that come along with SMS marketing, many of which are the tools necessary to create the solutions referenced in the previous section. Here are just a few of our features instrumental to ecommerce domination.
Segments: The key to creating smarter and more relevant marketing material. Segments make it easy to add audience targeting to your text marketing strategy.
Custom Fields: Manage your data and send personalized text campaigns. Our app includes a few default fields, but you can create as many as you need.
Triggers: Get back to customers with lightning speed. With Triggers, you can automatically respond to common queries and requests for information.
Tiny Links: Turn even the longest URLs into text-friendly tiny links. Send links to sites, videos, downloadable content, or apps.
Link Tracking: See how often your shortened links are clicked with our advanced analytics. Send customized campaigns for those who did and didn't click your link.
How to Get Started with Ecommerce SMS Marketing
Getting started with ecommerce text messages is not too hard. However, it includes a lot of planning and research. You cannot just sail out to the unknown and expect the best results.
Define Your Goals
The first thing that you need to do when creating an SMS marketing platform which will be used for ecommerce SMS marketing is to define your goals. Is the goal to reach new customers or turn the ones you already gained into loyal ones?
Do you want to target older or younger customers? Which region/country do you want to target? What are you planning to achieve with an SMS marketing campaign? All of these questions need answering, and that is what you should first do.
Partner With a Solid Text Message Marketing Provider
After you've defined your goals, it is time to partner with a reputable provider that knows its way with SMS marketing messages. Do your research, and don't just pick the first reputable platform. You need to consider your personal preferences as they can make a lot of difference.
Textback.ai is an excellent choice, offering robust ecommerce solutions with an industry-leading Pay as You Go pricing method that ensures every penny you invest dıo not go to waste.
Launch Your Campaign
After you've defined your goals and partnered with Textback.ai, it is time to launch your campaign. We will create ecommerce text message templates, and you can choose one that you think will have the highest success rate.
Launch your campaign and stay on top of the process all the time. In the end, ensure that you consider the results and measure them. We will explain later why measuring results is a vital part of the process.
Example Texts for Ecommerce SMS Marketing & Communication
Let's dive into some more examples of how SMS marketing solutions can help grow your ecommerce business.
Sales and Events
Send information about sales or special offers directly to a customer's phone. With SMS marketing, you can create a special SMS keyword that your subscribers can text to receive a discount code. When your subscribers text this keyword, they'll instantly receive an exclusive discount code that they can apply to their next purchase.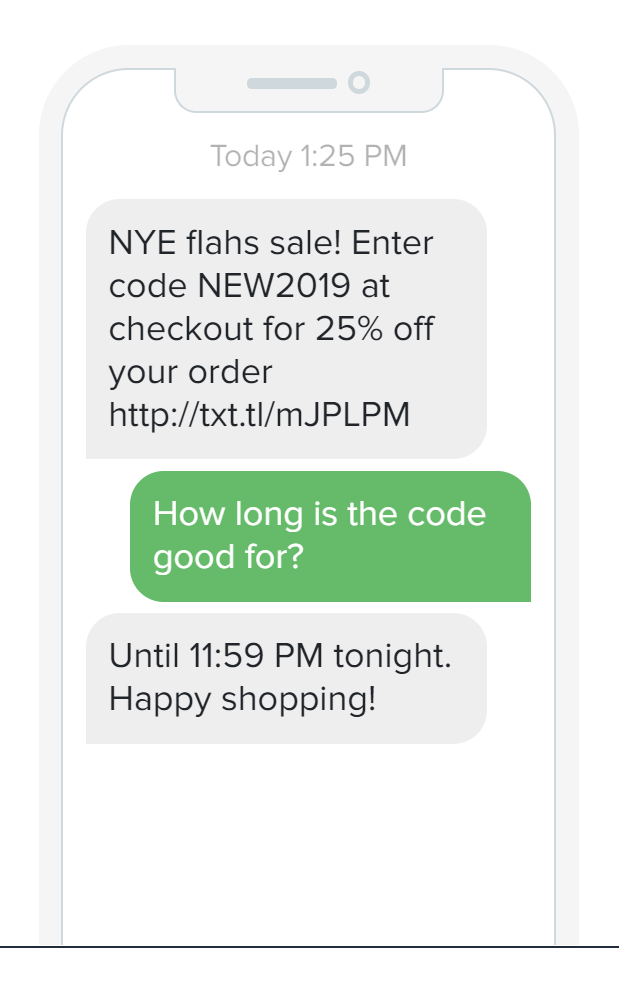 Share Order Status Updates or Shipping Notifications
Since most text messages are read in the first 3 minutes, SMS can help you instantly communicate with your customers. For example, send your customers text messages to confirm that their orders have shipped.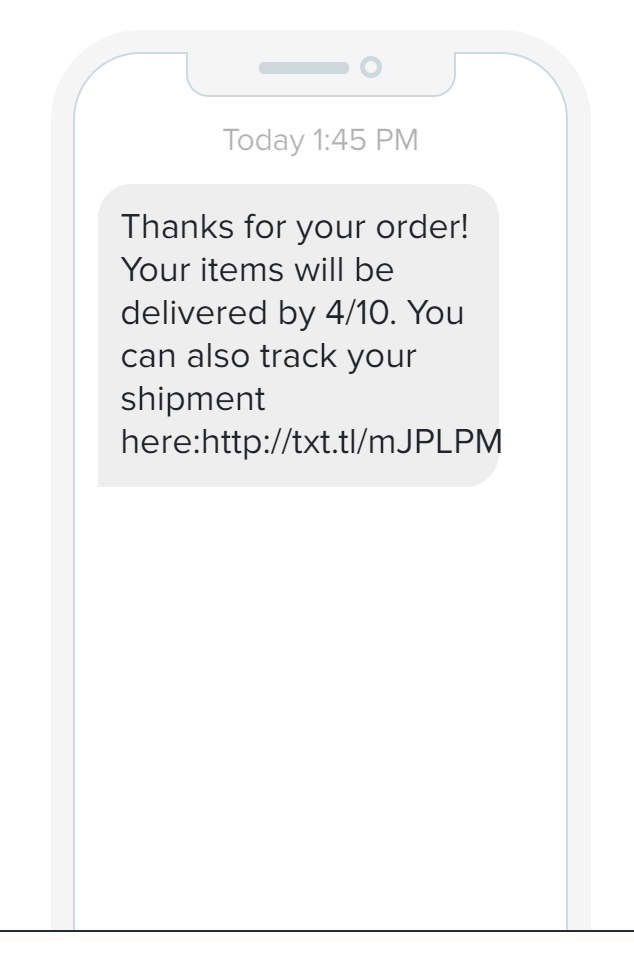 Recover Abandoned Sales
Abandoned shopping carts remain one of the biggest problems for ecommerce businesses. The next time a customer abandons a shopping cart without checking out, don't let them get away. Send them a text message reminder.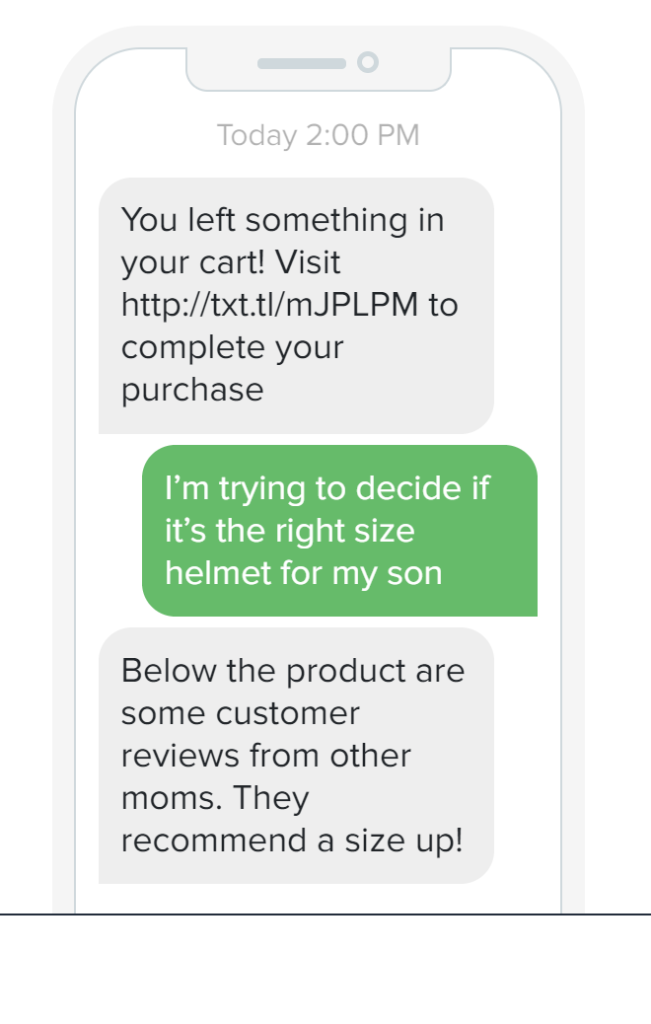 Add with Visuals
Text messages aren't just limited to letters and numbers. Include a shortlink to your mobile site when you're advertising your next sale. If you're utilizing MMS, you can even include rich media like photos, videos, and soundbites right in the message.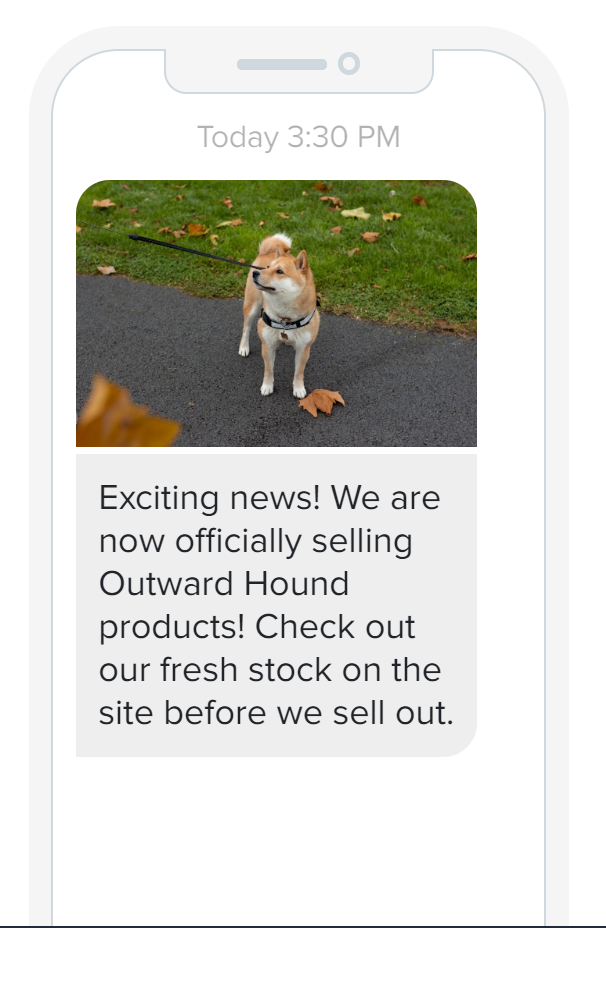 Exciting news! We are now officially selling Outward Hound products! Check out our fresh stock on the site before we sell out.
Get Instant Feedback
Want to follow up with your customers after they make purchases? Text them a poll, asking if they're satisfied with their items.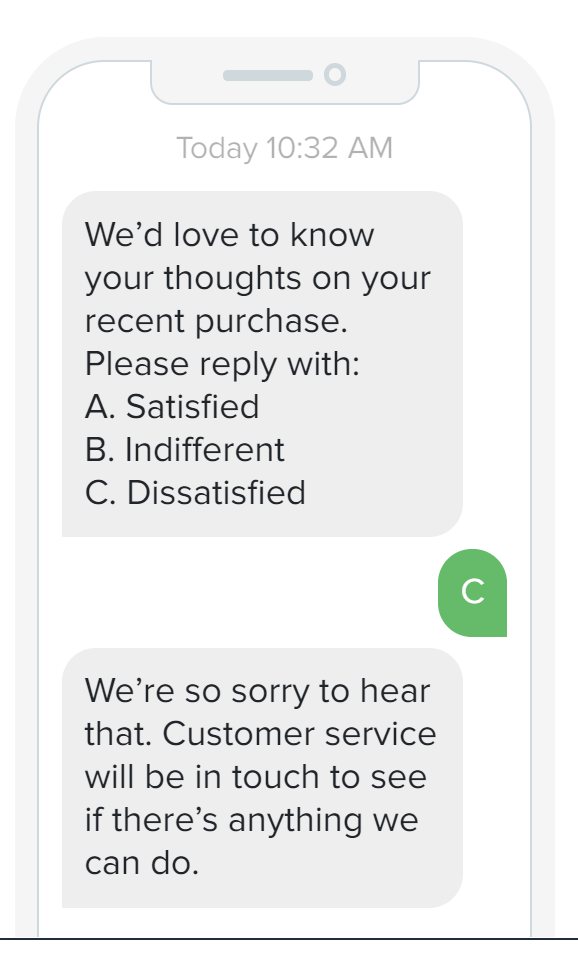 Provide Instant Customer Support
As ecommerce businesses know, customer service can often make or break when it comes to maintaining customers. More and more people are choosing texts over phone conversations, so consider implementing an SMS customer support experience.
Allow your customers to text you the next time they need help. Text messages have a reputation for being more instant and personal than emails, so make sure you're prepared to respond in a timely manner.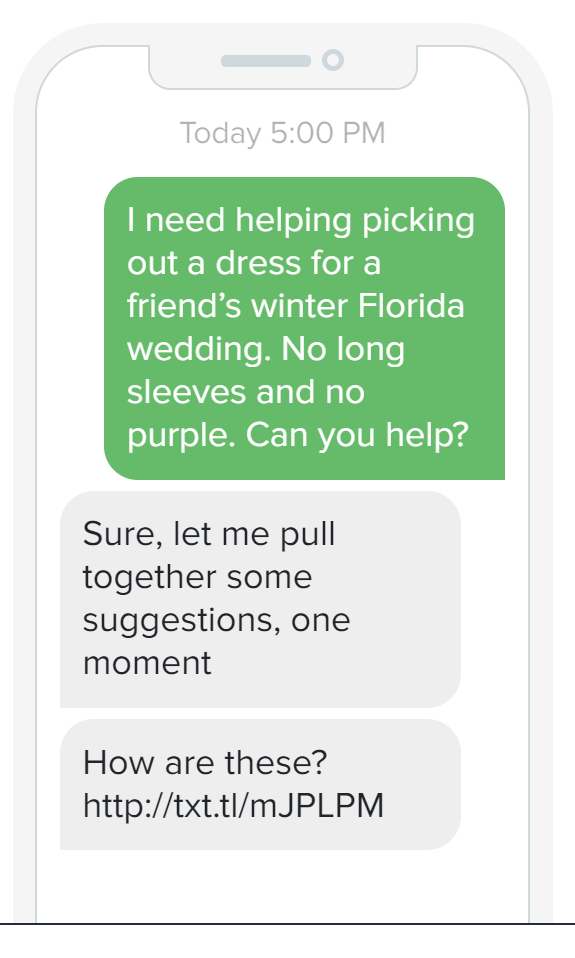 In addition, you can set up triggers for questions you're frequently asked. Triggers are special keywords that "trigger" an autoresponse. When your customers ask a common question, they'll receive an autoresponse. Their concern will be resolved, and you won't have to answer the same question again and again.
Personalized Product Suggestions
Reach out to consumers one-on-one with suggested items for purchase or restock alerts for sold-out items they were interested in. Data collection should enable this added personal touch.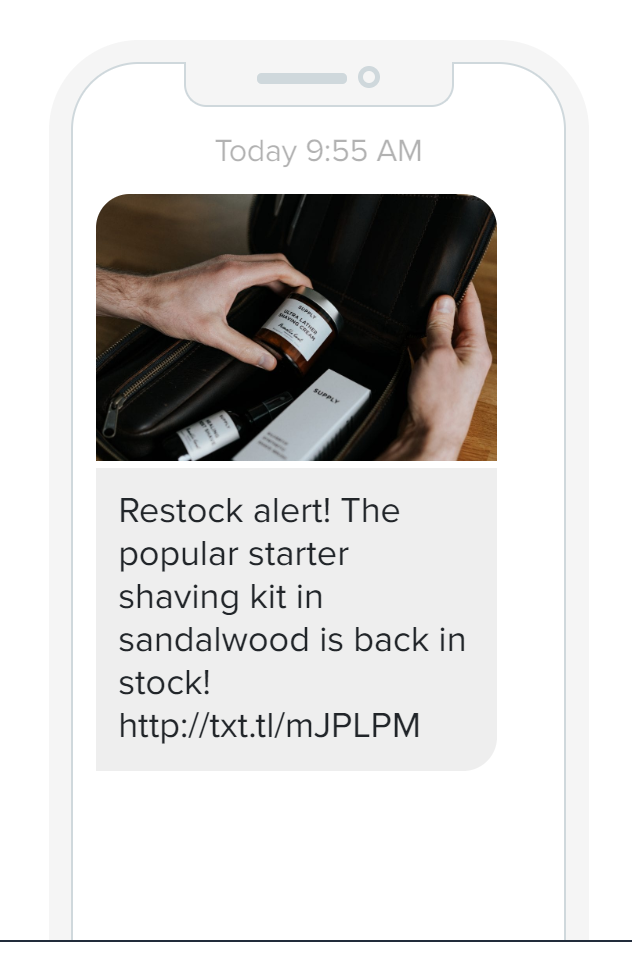 Restock alert! The popular starter shaving kit in sandalwood is back in stock! http://txt.tl/mJPLPM
Birthday or Special Event Messages
It's important that your messages have some versatility to ensure your subscribers stay interested. Birthday or other milestone event messages are a great way to mix it up and help your customers feel valued.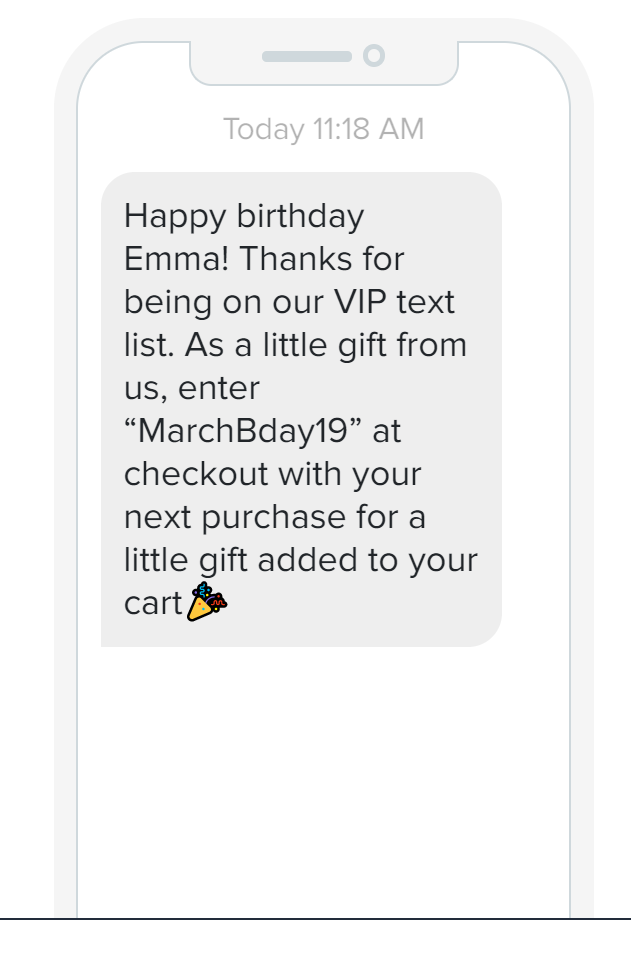 Subscription or Customer Reactivation
For some ecommerce businesses, consumers are purchasing items on a semi or regular basis. In order to retain that business and make it as easy as possible for consumers, texting can become a space for automatic reminders to purchase a product.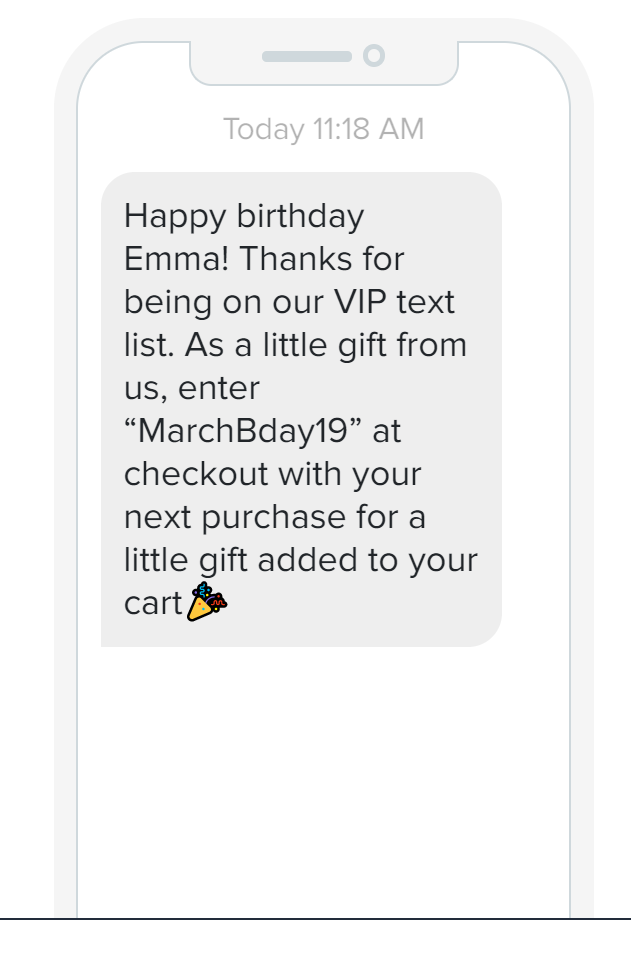 Follow Up with Buyers on the Fence
If customers reached out to your business with questions regarding a product, there's a chance it ended up as a dead-end after you helped them out. In order to capture and eventually convert interested parties, use texting as an ecommerce platform to follow up with undecided customers.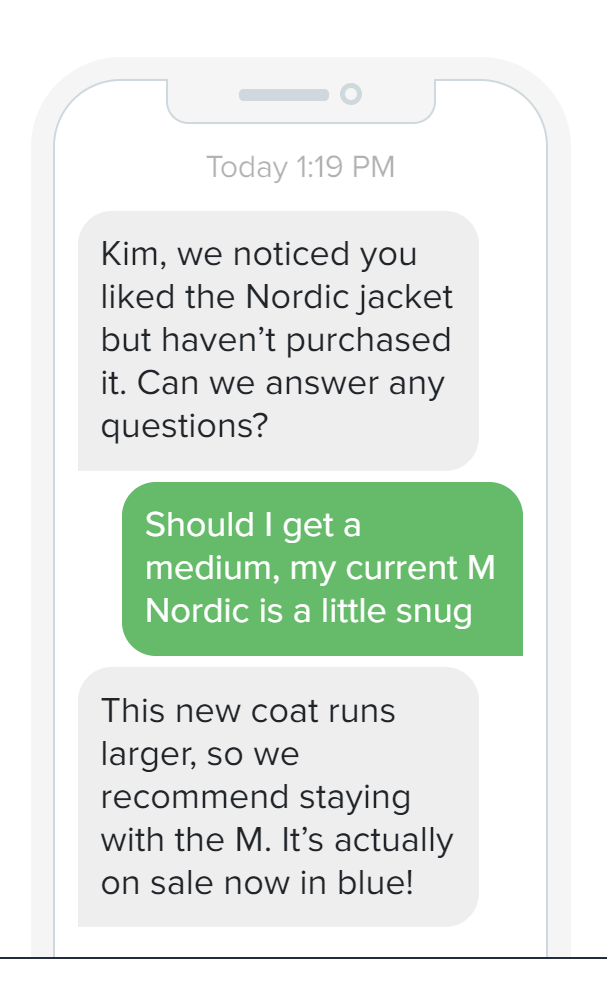 Turn Customers into Subscribers with Ecommerce SMS Solutions
Text marketing is a great tool, but what's an amazing band without some fans? Without subscribers, you won't be sharing your top-notch messaging with anyone. As word spreads about your program, odds are more people will join, especially if you're offering unique and engaging information. Here are a few tips to help get your text marketing program off the ground.
Offer Discounts
57% of people are willing to receive promotional texts, according to our research. That number jumps even higher when evaluating the response of 18-24 year olds. Offering an incentive is a great way to start getting people to trust your brand and get onboard with this new form of marketing.
Utilize Web Sign-Ups
Chances are, you probably already have a form on your website where customers can input their contact information to receive updates from your business. With a little adjustment to ensure you're getting proper consent, you can use those very contact forms to grow your subscriber list!
Brick and Mortar Advertising
Some ecommerce businesses have their products featured in brick-and-mortar businesses around the country. Encouraging those stores to advertise your opt-in keywords with a flyer at the register, in bathrooms, or in dressing rooms can be a great way to gather new subscribers.
Event Advertising
Popup events or conventions are also a great space for you to promote your text marketing services. Hand out business cards with your opt-in code or have folks write down their contact information at your booth.
Simply...Advertise with SMS
It may seem counterintuitive to market your marketing, but it's a necessary step. While you're still getting the word out about your newly text-enabled business, it's important to include details alongside any other form of traditional advertising you're already engaging in. Pin your keyword to your social media platforms, or boost a few posts announcing your new program.
Text-to-Win Contests
Similar to the discount idea, a text to win the contest is a fun way to hook your customers. You can also up the ante with a bigger prize or incentive since you're not offering it to everyone who signs up.
Email
Lots of ecommerce businesses utilize email marketing. Text marketing doesn't have to replace that. In fact, the two can work together quite nicely. The key is meeting consumers where their preferences reside. Letting your email subscribers know about your text capabilities could convert and re-engage some customers.
Create a Web Banner
As an ecommerce business, your website is your lifeblood. If information about your text marketing is visible on your site, people who are interested will take notice.
How Ecommerce SMS Marketing Blends with Other Marketing Strategies?
Once the clock struck midnight on December 31, 1999, we entered a new era. Over the next decade, many will argue that marketing changed for both the better and the worse. If there's one consensus everyone can reach, it's that as businesses, we are competing for consumer attention more than ever.
With that rationalization, it's logical to conclude that multiple marketing strategies must be in play for a business to succeed. Whether that's text marketing, email marketing, social media, or cold calls, we all still get letters (that aren't bills) in the mail.
Our point is that text marketing can stand alone or be used to strengthen your existing marketing efforts. For example…
Tease promotions with a text message telling folks to check their inboxes for a longer, more robust email that might have otherwise gotten deleted or sent to spam.
Reward people who are active on your social media platform with random acts of text-kindness and send them a discount or shoutout!
Send out surveys via text and email to increase response rates.
Before You Begin with Ecommerce SMS
The last step before you begin your text message campaign is arguably the most important. You must ensure that you've received permission from your customers. This means that you are not legally allowed to text your customers if they have not granted you explicit permission to text them. Doing so without consent is prohibited by the Telephone Consumer Protection Act and can result in heavy fines.
If you already have an email subscription sign-up on your website, consider also adding an option to the form where people can provide their phone numbers. Make sure to include a disclaimer stating that by submitting the form, clients are giving you permission to contact them at the email and number provided. This kind of interlinking is a powerful marketing strategy and a smart way to capitalize on your existing success.
Benefits of SMS Marketing for Ecommerce
SMS marketing for ecommerce has become extremely popular because it has plenty of benefits. That is precisely what we are going to talk about as we will break down all the advantages you will receive by using SMS messages as a marketing strategy for ecommerce.
Increased Loyalty
The first benefit of applying a particular ecommerce SMS marketing strategy is that it leads to increased customer loyalty. Once customers provide you with their phone numbers, they will receive SMS messages on their mobile devices.
It is a major benefit if these messages are personalized, or in other words, companies ought to use the names of their customers. The more personalized the ecommerce texting messages are, the more important the customers will feel.
Better Engagement
Increased customer loyalty always leads to better engagement. One of the main ways through which a company can grow is to increase its brand engagement with its customers. In doing so, customers will feel closer to the company.
Thanks to ecommerce text message marketing that is exactly what you are going to achieve. Once they receive an update, SMS subscribers will be sure to check what the latest development is, driving engagement.
Conversational Interaction
One interesting statistic concerning text messaging is that 66% of consumers prefer text messages to have a conversation with a certain business. Conversational interaction leads to higher customer satisfaction, exactly what ecommerce businesses are looking to achieve.
SMS Marketing Ecommerce Best Practices 
There isn't just one marketing SMS service for ecommerce that will help you achieve the greatest results. On the other hand, no practice can guarantee you success, but there are a couple of practices that will increase the chances of having successful SMS marketing campaigns for your business.
Keep the Messages Short
Let's get one thing straight. Customers don't want you to bother them all the time. Yes, they want to keep up with the latest updates since they've given you their phone numbers, but that doesn't mean you should nag them all the time.
Not only that, but you shouldn't explain yourself too much when sending text messages. Hence, make sure you keep things short and straight to the point. If they want extra information, they can always ask for it. The point is to capture their attention and drive engagement.
Personalize Messages According to Your SMS Subscribers
Many companies start their SMS messages for ecommerce store with words similar to "Dear Customer." Although this is not a mistake, it is way less efficient than personalizing your text message. Ensure that you add the name of your SMS subscribers at the beginning of each text message. Add a few more elements to make sure that the text messages are personalized.
That way, you will make the customers feel more important to the platform and are likely to achieve greater success and possibly, turn the customers into loyal ones.
Offer Valuable Things
Logically, when you're launching SMS marketing messages, you want to offer something valuable to your customers. Don't bore them with ridiculous stuff; offer time-sensitive deals, unique promotions, valuable information concerning events, introduce new products that fit their personal preferences, etc.
Allow Customers to Opt-Out from Receiving Messages
Some customers might not be the biggest fans of marketing messages. They might not want to receive any promotional text messages, so make sure you allow them to opt-out of receiving SMS messages tied to marketing campaigns. It's much better to lose an SMS customer than the customer itself.
How Do Big Ecommerce Companies Use SMS Marketing? Let's See Their Experience
The reality is that the SMS marketing strategy proved to be extremely successful. Many ecommerce brands use SMS marketing campaigns to drive customer loyalty and attract new users to their sites.
One of those brands is JUDY, an ecommerce brand that provides its customers with educational content and recommendations via its SMS channel to ensure that customers are in step with the latest developments. Customers can also opt-in for text messaging when there's emergency information they ought to know.
Next up, we have Hydrant, which allows its customers to receive text messages when it is time for them to reorder. Good Counsel sends personalized recommendations for its products, and Super Coffee uses text messaging to offer its customers various discounts and special offers.
How Does SMS Marketing Impact User Experience in an Ecommerce?
There's no denying that SMS marketing impacts the user experience in ecommerce. First of all, thanks to promotional campaigns and discounts, you will make customers feel far more important and thus, increase loyalty.
Not only that, but by utilizing SMS marketing automation for purchases and reminders, you will simplify the shopping experience for customers. Instead of doing the hard work alone, you allow customers to prioritize other things and rely on you to take care of other things.
Finally, by offering special discounts via SMS, users gain a lot of flexibility and accessibility to the offers. They will be able to stay updated at any time and any place.
Winning Strategies in Ecommerce SMS Marketing Campaigns
SMS marketing strategies should be formed according to your goals. However, there are a couple of "winning strategies" in the ecommerce industry, and we are more than happy to share a few of them. Let's check them out.
Referral Programs May Lead to More Phone Numbers
If you want to gain more phone numbers that you can use to launch an SMS campaign, then launching a referral program may do the job. The goal here is simple - ask your existing customers to refer their friends to your platform and reward them for doing so. Their friends will provide you with their mobile phones, and you can use them for future campaigns.
SMS Giveaways Are Always a Winning Strategy
Who doesn't like free rewards? If you launch an SMS giveaway, then you will definitely increase engagement, and in doing so, you will give your customers the feeling that they haven't provided you with their phone number for nothing. Make sure that it is not too hard for them to receive the rewards and that the rewards are worth fighting for.
Discounts for Cart Abandoning
Sometimes, customers might fill up their cart just to see that the price is too high for their standards. So, they will likely quit the process of buying. If they do so, make sure you use an SMS channel to provide them with a discount for the cart. That way, you may gain them back and increase ecommerce sales.
Automated Customer Messages
Finally, one good way to increase loyalty and make sure that you make customers feel like they are important to your business is to send recurring automated marketing messages.
Let's say a customer orders a certain product from your platform and pays for it. You can send automated text messages confirming the order and give extra details regarding the shipping period, price, etc.
Don't Forget to Measure the Performance of SMS Marketing in Your Sales and Conversion
Each marketing campaign, whether SMS marketing ecommerce or other practice, consists of three important steps. They are planning, executing, and measuring the results. During the initial phase, an ecommerce platform develops a certain SMS marketing strategy and studies the channels through which the strategy will be implemented.
Then, the company executes the strategy to achieve growth and increase the number of customers. However, you are mistaken if you think this is where it ends. The final part of the process, measuring the results, is equally as important as the other two. Here's why.
All text message marketing ecommerce campaigns can be successful or unsuccessful. Regardless of the outcome, they will provide you with a pretty clear image in terms of conversion rates.
Additionally, they will give you an idea of your platform's biggest strengths and weaknesses. After a careful analysis, you can conclude which sectors need improving and which had the biggest success.
A SWOT Analysis May Do The Job
A SWOT analysis is one of the oldest and most effective tools for measuring the results of any marketing campaign, including SMS marketing for ecommerce. SWOT is an abbreviation, and it stands for:
S - Strengths
W - Weaknesses
O - Opportunity
T - Threats
As the letters suggest, the SWOT analysis allows you to list all the most significant strengths and weaknesses of the SMS ecommerce marketing campaigns. Not only that, but it will give you a list of rising sections that have tremendous opportunities to succeed in the near future. Lastly, you may be able to analyze the threats that lie ahead and, thus, act in time to ensure that you are not in danger.
SMS Marketing for Ecommerce Statistics
If you still think that SMS ecommerce marketing is not as effective as other forms, such as email marketing, we are more than happy to provide you with a few statistics that will help you change your mind.
The Attentive Mobile Consumer Report states that 51% of consumers are likely to purchase if they receive a text message with straightforward media and images. Additionally, 33% of them stated that if the ad is relevant, they don't care if they receive an SMS or MMS.
According to customers, the most valuable texts are a reminder of an appointment (64%), update on delivery/shipment (48%), discount or special offers (29%), and alerts to refill a prescription (29%).
FAQ
Is SMS marketing for ecommerce effective?
SMS marketing for ecommerce is exceptionally effective, but only if it's executed well. That is why all ecommerce brands must ensure they develop suitable SMS marketing campaigns and measure their results. In doing so, they will be able to see the strengths and weaknesses of their campaigns.
Is SMS marketing measurable in ecommerce? 
Just like any other marketing strategy and campaign, SMS campaigns are measurable, and ecommerce brands need to measure their results if they want to improve in the future. They can keep existing customers and drive new ones to their platforms by measuring results.
What is the best strategy for ecommerce SMS marketing?
The reality is that the term "best strategy" really depends on your goals. Hence, the first thing you should do before you send marketing messages to the customer's phone number is to define your goals and create and execute a marketing strategy based on them.
Do big ecommerce companies use SMS marketing?
Yes, SMS marketing is a rather new practice in the ecommerce industry. Many brands have seen that it can be extremely successful and engage customers even more if executed correctly. That is why many reputable ecommerce brands use SMS marketing to send messages regarding various promotions.
How to choose an ecommerce SMS service provider?
The first thing that you should do when choosing an ecommerce SMS service provider is to review their services, costs, reputation, success stories, etc. If they check out, you can proceed to enter your personal preferences into the mix. Once you find a provider that matches your preferences, you can partner and execute a certain campaign.
More reading about SMS marketing:
Text messages for Entertainment