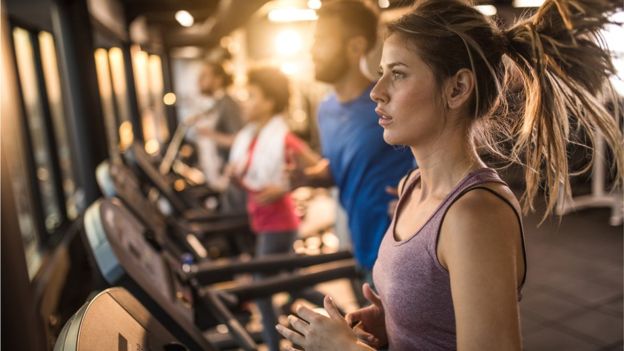 Which option would you choose most likely? Use SMS for gym and reach a personal trainer to schedule an appointment, get on a long phone call?
If you're like most clients, you would prefer to book via text messaging. A study revealed that 67% of clients prefer to book and manage their appointments via text instead of calling on the phone or sending an email. This shows the importance of direct, real-time communication, which has become more evident during the lockdown and restriction phases of the pandemic.
With text message marketing, you can significantly improve your communications strategy, especially if you struggle to update clients about your gym or studio's latest schedules, programs, and news.
If you need more proof, take it from the millennials – around 60% of them prefer to communicate with a business through text messages simply because it's faster and more convenient.
How SMS Marketing Helps Gyms and Fitness Centres?
Suppose you prioritise using phone calls and emails to communicate with your clients. In that case, you risk frustrating them and unintentionally pushing them to find another gym membership or fitness studio—something you don't want to happen.
Text message marketing is not just for keeping up with bookings and sharing schedules. Text messaging is also essential for boosting gym memberships. It's only natural to see gym memberships rise during January, and most of them would stick around for a couple of months at least.
But after three months, many clients will come to the gym less or stop going altogether. See, many of those clients signed up for their New Year's resolutions, and we all know that not all have the dedication to stick to a fitness regimen. This will dwindle gym memberships, and you will soon find yourself scrambling to attract or maintain clients.
With text message marketing, inform members directly about the latest offers or programs that can entice them to come back or stay longer. This is especially helpful for keeping in touch with members who are at risk of quitting and those who are drop-outs.
How to Get Started with SMS Marketing for Gym and Fitness Centre
It is essential to get everything right from the beginning. Here are some key components to keep in mind to get your gym text message marketing plan up and running.
Budget Allocation
Yes, text message marketing is cheap, but you will still need to allocate funds to launch it. Even if it's affordable, you need to declare how much you plan to spend on your books. This will come in handy for record-keeping and maintaining overhead vs profits.
Taking note of your expenses is critical for the success of your business, and this applies to marketing efforts such as SMS marketing. Knowing the ebbs and flows of your industry will certainly help you plan your marketing strategy.
Setting your SMS marketing budget involves considering costs such as cost per keyword, cost per message, and monthly fees, depending on your SMS service provider. Most companies are unaware of the need to pay keywords. You need to pay for the use of certain words.
As for monthly fees, you may deal with tiered pricing, in which you get a fixed number of messages and keywords that will go with your monthly payment. You may have to subscribe to a higher tier or make additional payments if you require more.
What's good, though, is that most providers do offer a free trial or tier for new sign-ups. You can just scale up as your contact list and campaigns grow.
Collect Member's and Potential Customer's Contacts
Now you will put your strategy to the test by getting in touch with your clients. Encourage new and existing members to agree to receive offers and updates from the gym via SMS. This is important – by getting their consent, you avoid the risk of turning them off because they are getting messages that they don't want.
Remind your customers that they can unsubscribe from your text service anytime. Giving them an option to unsubscribe will make them more amenable to receiving messages from you.
Of course, it would be better if they opt-in for accepting messages, so this is where incentivising comes in. Say you give them an extra 15% off their membership payment for a month if they agree to provide their phone numbers.
Clear and consistent communication is essential to collecting and retaining customers. Always use ordinary language to clarify your message when sending direct two-way SMS to customers. You will find that this marketing method is very effective in delivering your marketing tactics to your clients.
Choose the Right SMS Platform
You need to choose a platform that will allow you to carry out your SMS marketing strategy. These are the qualities that your text messaging platform should have:
It Should Be Easy To Use
You should be able to select multiple contacts from your list and send texts in bulk without any hassle.
It Should Have 24/7 Support
You should be able to reach out to technical support whenever you need help with the service.
Start Sending SMS Messages
So now that you have chosen the ideal SMS platform and have your contacts ready, it's time to leverage text messaging to generate leads and increase loyalty to your gym. Craft messages that will encourage potential members to sign up and serve messages to keep your existing members.
Remind your clients to renew their memberships. Last but not least, you will be using your SMS platform to send general information about the operations of your business.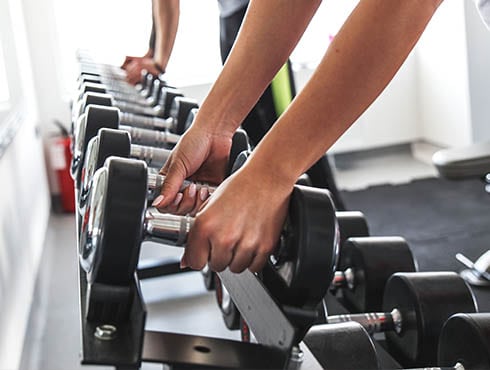 Use Business SMS to Communicate 1-on-1 with Gym Members
Promote your fitness business with easy and affordable text messages by engaging your members one-on-one. Employ SMS to send challenges to your loyal clients about a rigorous fitness challenge. For your non-active clients, you can send a text telling them about a perceptible contest, such as shedding several pounds.
Since your clients can easily reply via text, quickly compile your list of willing participants and send individualised texts. You can also check fitness goals as well as impart motivational words via text as well.
Benefits of SMS Marketing for Gym and Fitness Centres
There are three simple yet legitimate reasons why gyms and fitness center need to elevate their SMS marketing efforts.
Quick and Efficient
Not only can SMS send information rapidly to your recipients, but it can also help you set it up quickly too. You only need to compose short and catchy content, preferably with just 160 characters or less. It beats creating flyers or writing and sending blogs and email campaigns.
Given the time advantage of using SMS, send time-sensitive information to your clients, such as rescheduled or cancelled classes. Use SMS to communicate with your staff and keep them informed about changes and schedule updates.
Cost-effective
Text message marketing is one of the cheapest options that you can use. Depending on your location or your carrier terms, you pay according to the volume of messages you will be sending. It certainly costs less than the money you need to spend on other marketing activities, especially those that require ad placements.
High Conversion Rates
For most brands, conversation equals sales, but in this case, the conversation can be whatever action you want your client to commit. It could be signing up for your email newsletter, referring a friend for membership, or trying out the latest features on your website.
Gain New Customers
You may think of texting as something for your family and friends only, but it's a great tool to target and engage existing and potential members. SMS is an effective tool for attracting customers and growing your membership pool because it is highly engaging, easy to implement, and cost-efficient.
High Open Rates
As internet sources and industry experts will tell you, text messages are opened 98% of the time. It simply shows the power of text messaging for marketing businesses, especially fitness centres.
Deliver updates about the gym, give fitness advice, and send reminders with SMS to members knowing that your message will be instantly read, not just seen.
Send Personalised SMS to Your Gym and Fitness Centre Members
Members pay good money at your gym or studio for two main reasons: to be in good shape and maintain fitness levels. A six-week challenge can inspire both types of members.
With minimal effort, you can turn this into an easy upsell opportunity. Your members will feel better getting more personalised attention because they get text messages that regularly check on them (with their consent, of course).
Don't forget that SMS can help keep your classes full. Avoid having those costly no-shows because you can easily use SMS to send automated reminders for fitness appointments or scheduled classes. Not only that, but you can also send waitlist notifications when new spots are available.
Request Gym Members for Their Feedback on the Facilities and Services Through SMS
As a gym owner, you can easily send bulk texts to your members using an SMS platform. This is a suitable medium for conducting polls or surveys regarding your special events or fitness challenges.
Unlike email surveys or polls, your clients may not bother to open, require them to log on or find the app frustrating to use. SMS surveys are easy and instant.
Use SMS for your surveys, and receive feedback in real-time while the experience is still fresh in your clients' minds. The information is precious for improving your fitness classes and encourages them to return.
When you use SMS software, you can build your survey from scratch, allowing you to think your way through your messaging and client experience. For this, you can look into choosing fitness SMS templates that will suit your members without the need to code or enlist the help of an external marketing agency.
Don't Forget to Track SMS Marketing Performance of Your Gym
With text messages, you have the freedom to go creative with your marketing ideas in promoting your gym or fitness center. Remember that every fitness business is cluttered with social media, emails, newsletters, and advertisements. Why not cut through all that and use direct text messages instead?
Use SMS to cross-promote with other gym membership marketing ideas you use for your business. These ideas may include corporate promotions, special events, referral programs, Instagram challenges, and Facebook live classes.
Utilise Textback.ai's powerful performance tracking tools to get an accurate overview of the overall performance of your marketing campaigns so that you know for certain that no money spent on marketing goes to waste.
SMS Open Rate
The average open rate of a text message is around 99%. Out of those messages, 97% of them are being read within 15 minutes after they were sent. With SMS marketing tools, know exactly when your customers open your messages, which helps you time your messages more efficiently.
SMS Response Rate
Not only are SMS messages getting opened more frequently, but they also fetch a higher response rate. The average response rate for text messages is 45%. The higher the response rate, the more effective your SMS campaign is.
SMS Conversion Rate
Generally, the conversion rate of an SMS campaign is twice or thrice higher than an email campaign. SMS has engagement rates that are 6 to 8 times higher than email marketing when the campaign is used for data collection, redemption, and brand awareness.
Sample Texts to Use in SMS Marketing for Gym Businesses
To make your SMS marketing efforts easier, why not use gym SMS templates that will suit each member type or situation? Here are some of the most common ways you can utilise SMS for gyms and a few examples of fitness SMS templates you should consider using to send personalised messages.
Fitness and Diet Tips
Individual attention is everything, whether you or another fitness trainer collaborate with a member. With text messaging, keep your clients motivated and updated, especially when these people are not in your facility.
Send personalised messages for appointment reminders and best practices regarding forms, routines, and postures to help them avoid injury. These messages can also encourage them to develop personal accountability and achieve the fitness goals that they have worked on with their trainers.
An excellent way to do this is by sending a message to members in the morning and waiting for them to reply. If you don't receive a reply from them, follow up with another text. You're aiming to maintain the customised nature of the fitness partnership you share with clients.
Sample SMS templates:
Psst… [NAME]! Your exercises for today are: [LINK] Are you ready to smash your health goals?
Sign up for our free fitness challenge today! More details are available here: [LINK]
Automatic Welcome SMS to New Joiners
It's essential to take care of your existing customers. It's doubly important to take care of your new customers. If they don't feel like receiving the attention they deserve, they will quickly cancel their gym membership and look for alternatives. Prevent membership loss by sending them automated messages to make them feel welcome. Guarantee word-of-mount recommendations by providing the best new members with the best gym experiences. Don't forget to send motivational messages, as these are the most crucial ways to retain new joiners.
Sample SMS templates:
Hi [NAME], this is Caroline at [NAME OF GYM]. Thanks for booking your first visit! If you have any questions, let me know. See you soon!
Hi [NAME], this is Patty from [NAME OF GYM]! Thanks for downloading [LINK] – that should help you break a sweat. Let me know if you need help with anything!
Tell Customers About Upcoming Promotions
Use SMS to cross-promote with other membership marketing ideas you use for your business. These ideas may include corporate promotions, special events, referral programs, Instagram challenges, and Facebook live classes.
Sample SMS templates:
[NAME], Flash sale! Get three additional classes for the price of one!
Hey, [NAME]. Refer 1-Get 1 is back! For every friend joining with your referral code [CODE], you'll get 1month for free! Code is valid until [DATE]
Membership Expiration Alerts
Remind your members about upcoming payments by sending them messages. This will reduce their chances of missing dues. The best way to have a steady income as a gym is to have automated payments. The more customers you have with an automated payment, the better, and losing one is the worst. Remind your members their subscriptions are about to expire and encourage them to sign up for an automatic payment system.
Sample SMS templates:
Hi <FIRST NAME>, Randy from [NAME OF GYM]. Just a reminder: Your membership expires in a week. You can renew here [LINK].
Did you know? You can get up to 3 months free if automated payments are enabled. Click [LINK] to find out more!
Incentive SMS to Avoid Current Customers Quitting
You can make messages a part of your members' membership plans, which they are likely to appreciate. The key is highlighting SMS services as part of their gym membership to market your facility to new clients. It could be an added perk when they avail of personal training or join a fitness class. Of course, the add-on should be free. This is a great way to initiate customer retention and also an excellent way to know if clients are interested in additional classes or services.
Sample SMS templates:
[NAME], this is Brian from [NAME OF GYM]. What are your thoughts on the membership proposal I shared last week? Anything I can answer for you?
Time Schedule and Updates About the Gym and Fitness Centre
Unpredictable events happen – there may be maintenance in the gym that will impact the scheduled classes. Make sure that such events will not inconvenience your members by sending timely gym SMS informing them of the changes on time.
Sample templates:
New class alert! Join [INSTRUCTOR] on [DATE] for [CLASS NAME]. Ten spots are available. Sign up here: [LINK]
Hi <FIRST NAME>, today's Zumba class is cancelled. We're sorry for the inconvenience. You can sweat it out with Dancing Delilah [DATE] at [TIME].
Birthday Messages to Gym Members and Give Them Special Birthday Offers
Make your members feel special and taken care of. Simple but sincere birthday messages can go a long way in showing your members that they are valued. While you're at it, why not give them exclusive discounts to celebrate their birthdays?
Sample templates:
Happy birthday [NAME]! We're giving you complimentary personal training sessions of your choice to celebrate your birthday! Book your session within this month to enjoy the benefits!
Advertise Clothing & Supplement for Your Gym or Fitness Centers
The best way to scale up any business is to diversify. Use SMS to promote gym supplements, equipment, clothing, and other items your company sells and guarantee an additional avenue of income.
Sample templates:
Hi [NAME]! Get 20% off our gym merchandise from [DATE AND PROMO DURATION]. Stock up and save more on clothes, equipment, and supplements!
Use SMS to Manage Gym Staff
Scheduling personal trainers and other gym employees are made more accessible with SMS. When your trainers are booking rooms, classes, and appointments, you can text updates to staff members who will be affected by the changes.
This is especially useful when classes or courts suddenly become open for booking. It will allow staff members to schedule more clients, something they will definitely appreciate.
In case of emergencies or facility maintenance, you can send bulk SMS to all your employees, including those concerned. Regarding changing situations at the gym, timely communications via SMS are critical, and your people will be able to see your message.
FAQ
Should I use SMS marketing for the gym?
Definitely, one of the primary reasons for using SMS marketing for your gym is that you will actually see results. When done correctly, you can improve your customer retention rates and garner more favourable reviews for your business. This is very important in building your gym's reputation, and with a good reputation comes newer clients.
What is the best gym SMS marketing strategy?
You can use several campaigns to market your gym to existing and potential clients. You can use your SMS platform to send bulk SMS, such as reminders about classes and gym schedule changes. SMS can also help remind clients about their expiring memberships and encourage them to renew.
You can also use SMS to strengthen relationships with members by sending them birthday greetings with special discounts, fitness and diet tips, updates from personal trainers etc.
What Kind of SMS Can I Send to Gym Members?
As long as your messages are relevant to your gym and you don't spam, there are endless types of SMS you can send to your members. Class invitations, special training sessions, gym signup offers, new members welcome, gym referrals, encouragement messages, schedule changes, and other gym-related information are some of the best SMS messages you can send to your clients. Fortunately for you, Textback.ai offers excellent gym SMS templates you can use for more effective text messages.
More reading about SMS marketing:
Text messages for Entertainment