SMS Solutions for Event Management & Entertainment Venues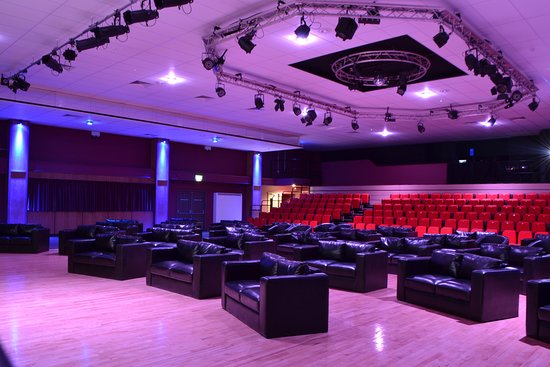 How to do Event Management With Text Messaging?
If you operate an entertainment venue, delivering a safe, enjoyable, and memorable experience is what you're all about.
An epic action movie, a Broadway play, an exhilarating DJ, an irreverent comic, an ear-splitting concert, a breathtaking performance… Yes, there's no business like show business…but what if no one shows up to your event?
Whether you run a concert venue, a nightclub, conference center, wedding venue, or a theater, your business is in for a tragic turn of events if you don't attract enough of an audience.
Fortunately, there's a simple solution that helps you draw in the crowds, keep them safe and informed during their time in your space, and follows up with them afterward ensuring a full circle customer experience.
The name of our website may have given it away entirely, but it certainly ensures that you're in the right place.
Our solution for putting on spectacular events at your space is texting.
How can Entertainment Venues Use SMS for Event Management?
Your business most likely focuses on the following things each day: securing bookings, communicating with vendors, managing crowds, and marketing. We'd wager that finding more efficient ways to juggle these tasks is a priority.
This results in a need for both an internal and external communication solution that works along with you and your existing tools. Bringing new software to your business can result in some serious learning curves, especially when it comes with new hardware.
But that's one of the great benefits of texting. Not only does everyone know how to do it, it doesn't require any additional downloads or extra steps. To text, all you need is a cell phone. And let's face it, who doesn't have one of those?
Texting is for more than just sharing messages. To give you an idea, here are just a few ways that you can potentially use text messaging with your event space.
Sample Text Messages for Events and Entertainment Venues
Event reminders
Keep your audience updated with weekly or monthly texts about your upcoming events.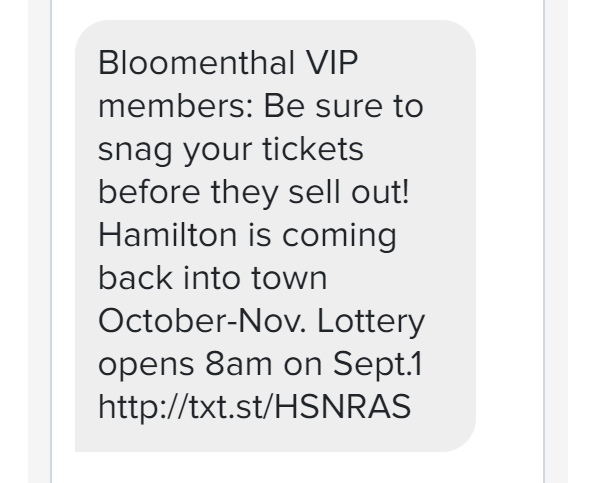 Exclusive offers
Reward returning showgoers with exclusive text coupons and special discounts.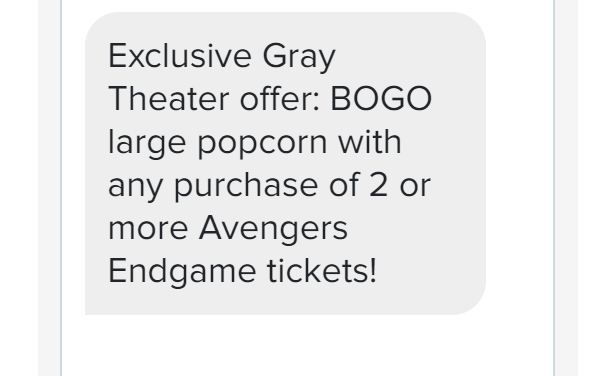 Exciting ticket giveaways
Hold a text messaging sweepstakes for free tickets to build a buzz about your business.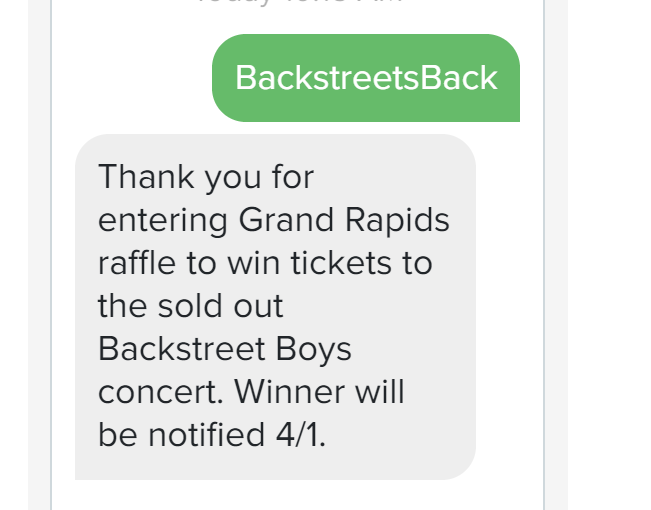 Emergency Alert Notification
Share urgent weather or safety alerts instantly with your entire crowd.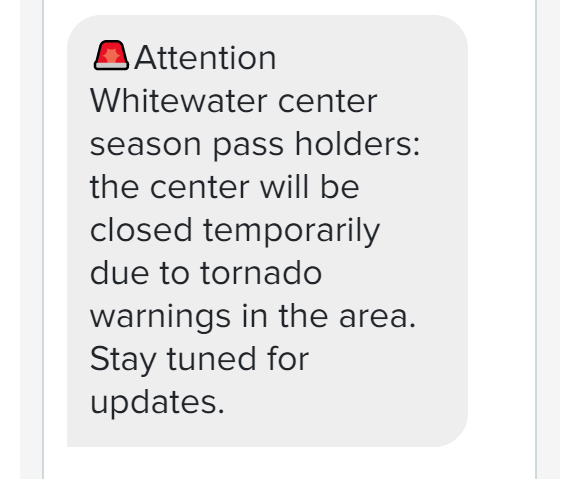 Post Event Surveys
By sending out post-event satisfaction surveys with trackable links you can collect valuable customer data.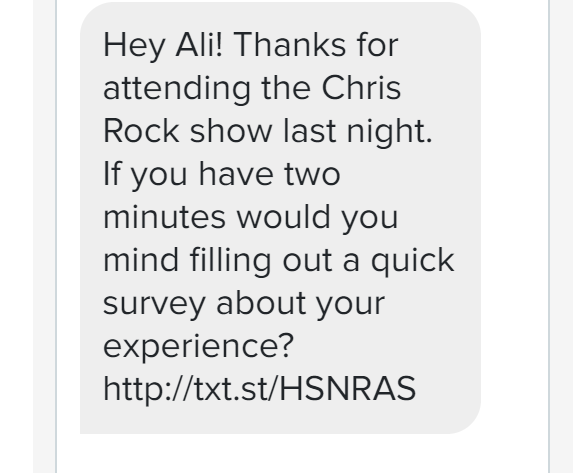 Virtual Customer Service
In order to ensure a smooth event have customers text you with any needs typically managed by a waiter, usher, or manager and respond instantly no matter where your guest is seated.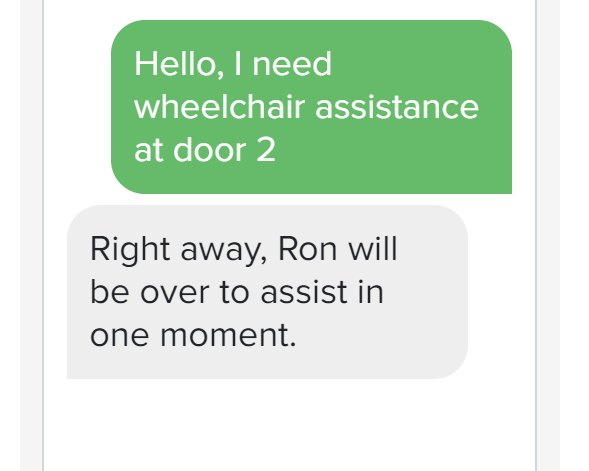 Send Reminders or Schedules
For multi-day events or conferences, stay connected with attendees through custom keywords.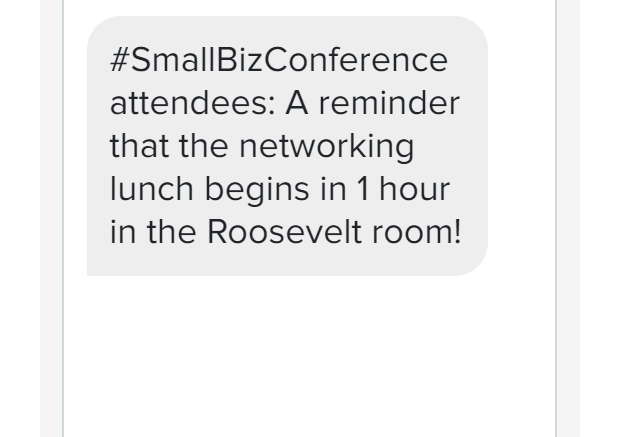 Connect with staff during events
Improve teamwork and ensure everything is running smoothly by sending updates in real time to staff members.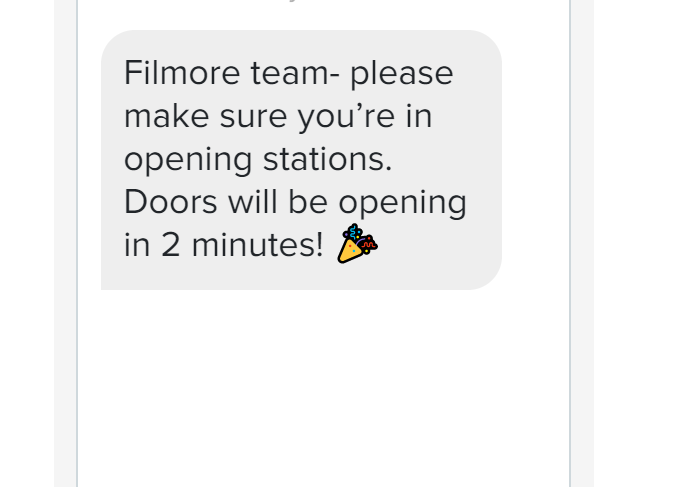 Why Is SMS Marketing so Successful For Events and Venues?
98% of text messages get read. And sometimes just getting eyes on your marketing materials is what you need. But when it comes to consumer preferences around events, texting hits on all the sweet spots across multiple demographics.
One of the most accessible aspects of text marketing is the pricing. You may not have the budget or the scope/size of events of a professional football stadium. But that doesn't mean you shouldn't be able to deliver the same level of customer service and experience!
With text marketing, you pay for what you need, even if that's just a few messages a month. But each account large or small still has access to the features that make text marketing pop.
Text Marketing Features Useful to Your Venue
Templates & Duplicates: Save time by reusing your frequently sent messages, campaigns, inbox replies, autoresponders, and keyword confirmation messages. No more repetitively typing out your hours or monthly event schedules!
Segments: Segments make it easy to add audience targeting to your text marketing strategy. Segment customers according to what they've attended to make sure you send them upcoming shows or events of interest.
MMS Marketing: Sometimes the best way to market your events is by giving people a sneak preview. MMS lets you enhance your text message campaigns with event images, videos, and other rich media. You get up to 1,600 characters of text, too.
Text to Vote: Let your subscribers help you decide what they'd like to see in your space! Get instant feedback from customers with a text poll. Set up multiple choices and even share the real-time results with your participants.
And that's only the beginning. You can explore all the features we have to offer right here.
Getting Guests Signed Up for Text Message Promotions
You've seen how text marketing can keep your seats full. Event reminders, text coupons, and giveaways are great ways to ensure your entertainment venue is a hit. But creating the perfect text is only the beginning. You need to make sure you have people to send it to!
But before you can start texting your patrons, you'll need their permission. People have to opt in, or subscribe, to your text campaign first.
So, how do you get subscribers? Follow these simple steps and you'll be selling out the show in no time.
1. Draw them in—give your visitors incentives to subscribe.
2. Get the word out—let people know about your text campaign.
Let's take a closer look.
Step One: Draw Event Attendees In
Some people will be happy to subscribe simply because they appreciate your venue. Your goal, however, should be to collect as many subscribers as possible: The more numbers you have, the more effective and profitable your texts become.
The key to getting subscribers is offering them attractive incentives.
Here are three incentives proven to provide contacts:
Sweepstakes and giveaways: Probably the most popular and powerful campaign, a text to win sweepstakes is a great way to bring in subscribers. First, choose a prize: perhaps free tickets to your events or special backstage access with a special guest. Then, have visitors text your keyword to 555888 to enter and subscribe. It's that simple!
Free stuff: Who doesn't love it? Offer guests an inexpensive-yet-exciting item just for joining your campaign.
Some ideas: a free small soft drink, a commemorative pin, a bite-size candy bar.
Instant discount: Your guests will love receiving discounts by text in the future. They'll love a discount now even more. Offer 20% off their ticket price for subscribing on the spot.
Use this incentive just before a purchase for maximum effectiveness.
Don't forget what you're using your texts for in the first place: event reminders, exclusive offers, text coupons…these are often incentive enough to attract subscribers. Market these uses as what they are: friendly services.
Let's move on to promoting your incentives.
Step Two: Get the Word Out About Your Text Marketing Program
It doesn't matter how enticing your incentives are if no one knows about them.
Your audience is already receptive. People come to your entertainment venue to watch, listen, and experience, so it shouldn't be a challenge to get your message across.
Here are just a few ways to spread the word:
Word of mouth: While the crowd waits for the show to start, announce your promotion over the PA system.
Got a line? Put a sign! A flashy sign gives people standing in line something to see and do.
Chances are you already advertise upcoming events somewhere. Place your text promotions here to let people know they can receive regular updates about events.
Put a clear and concise notice on the tickets themselves! Guests often keep them as memorabilia.
Follow these simple steps and start texting your way to a full house!
Get Your Entertainment Venue Started with Texting for Free!
If you're ready to give text marketing a try, we encourage you to sign up for a free trial account with us.
You'll get 50 messages plus your own custom keyword.
And yes, it's really free. No credit card, no contract, just free.
When you're ready to upgrade to a paid account, just change your billing plan from the dashboard. Simple!
Interested in more industry guides? Read about text message marketing for restaurants or spas and salons.
More reading about SMS marketing:
Text messages for Entertainment