SMS Solutions for Dry Cleaners & Laundry Service Advertising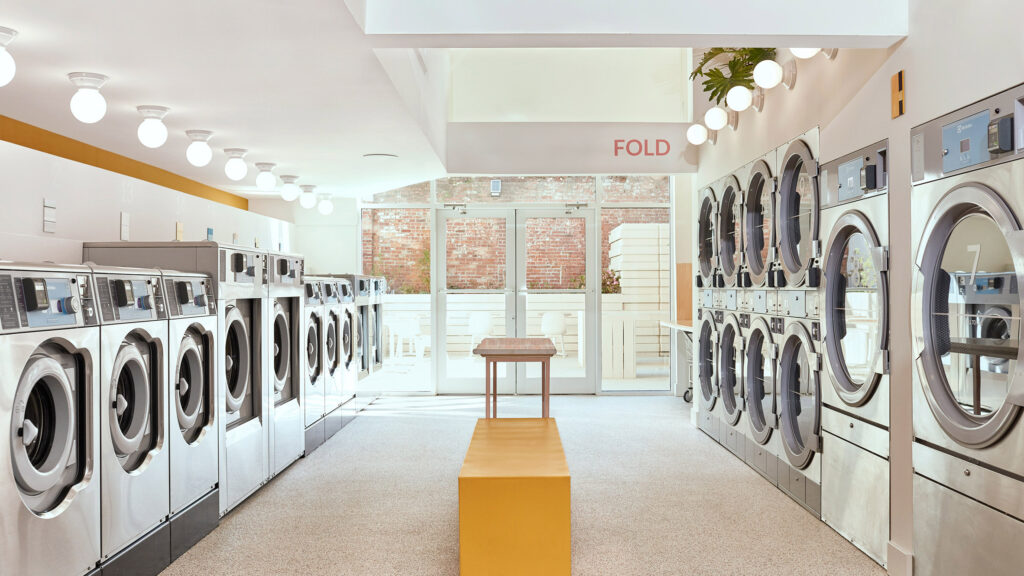 How to Use Mass Text Messaging For Laundry Service Advertising?
In the U.S. alone there are around 21,044 laundromats. Last year the dry cleaning industry generated around $9 billion in revenue! As long as the fashion and textile industry lives, there will always be a place for laundromats and dry cleaners in the economy.
This means that one of the main industry challenges is bringing in new customers and preventing existing ones from switching to competitors. An analysis by American Coin-Op revealed that proximity of a location to work or home was the top determinant when a customer is choosing a laundry service.
The kicker is, customers are actually willing to go out of their way to use a laundromat or dry cleaners that provides added value such as convenience, cleanliness, or newer technology.
So, how can you turn your business into a location worth traveling an extra few miles for? One cost-effective, time-saving, and popular method is to use texting.
We'll show you how you can work SMS into your laundromat advertising strategy and start building out your business through best practices today.
How Can Laundromats and Dry Cleaners Use Text Message Advertising?
Texting is gradually becoming one of the most preferred forms of communication across multiple age groups. Thanks to the addition of things like MMS, GIFs, and emojis, texts nowadays convey more emotion and information than ever before.
So, as a laundromat or dry cleaner, how can you use texting as a way to get closer to customers all while supporting your bottom line?
The name of the game is automation. Texting is all about making your customers lives easier. You want to deliver an experience that makes cleaning their clothes easy, efficient, and dare we say…enjoyable? At the very least we want it to become the least dreaded chore (it currently falls just behind cleaning toilets and unclogging sinks according to the public).
So, how does texting get you there? While our list of ideas isn't exhaustive, it's a basic jumping off point that any laundromat or dry cleaner around the country could use.
Example Texts for SMS Laundry Service Advertising
Pickup Alerts
Avoid playing telephone tag with customers. Instead, text them when their dry cleaning is ready and coordinate a time that works for them to come pick up their order. If they know they can't get in right away, they can easily text you back letting you know so you don't wind up waiting on them. Just set their clothes aside and reduce the clutter! This system also comes in handy for full-service laundromats!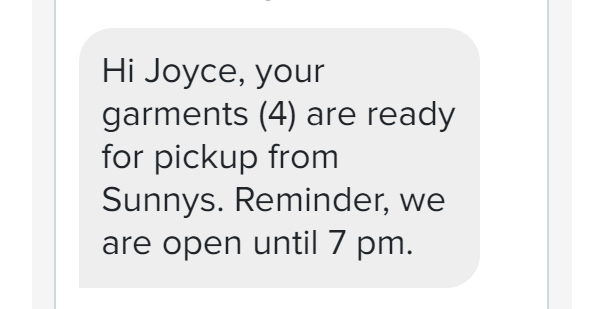 Account Balance Alerts
Depending on how you charge for services, some customers may have an outstanding balance for their items. In the world of commercial laundromat contracts, this certainly isn't uncommon. So, in order to stay on top of finances (for both you and your customers' sake) text out noninvasive, gentle reminders about an account balance at any given time.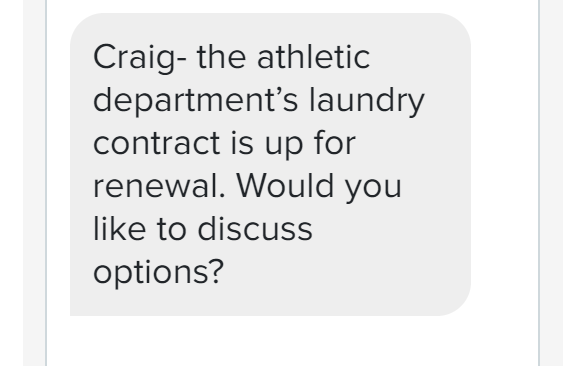 Virtual Lost & Found
If someone comes home from the laundromat only to realize they're missing a shirt or two, the last thing they want to do is drive back to the laundromat only to find out it's not actually there and they left it at a friends house. By giving your customers the option to text you and ask if something has been left behind you not only save them time, but you demonstrate that you care about customers and their possessions.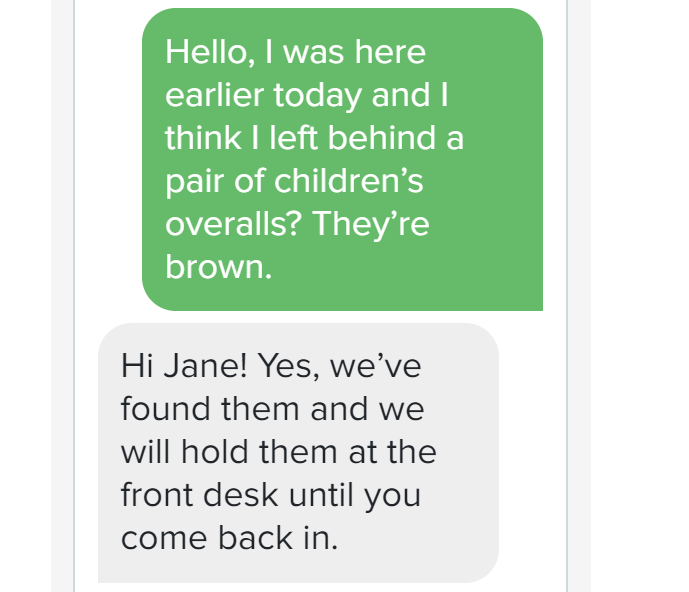 Send Coupons
Encourage return visits by hooking customers with coupons for their first visit, tenth visit, and so on. By sending coupons directly via text you don't force your busy patrons to fish through their junk drawer to remember a punch card. To attract new customers, you can advertise a keyword that, when texted to your number, sends a discount code directly to them! You can even sweeten the deal by working with similar local retailers and offering deals with them along with your coupons. For example, a dry cleaner can offer a discount to a local seamstress and vice versa.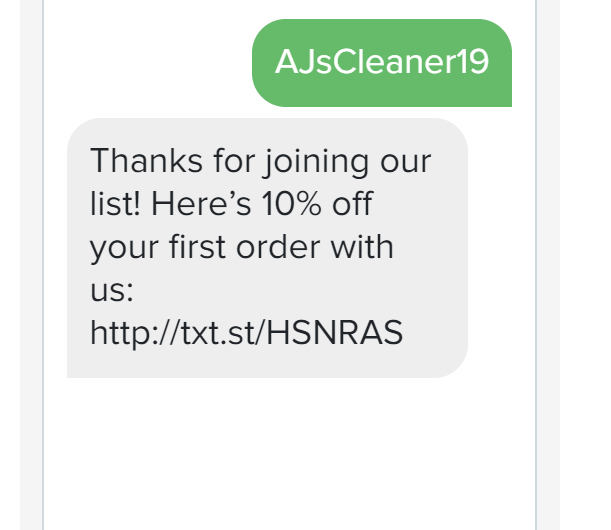 Share Helpful Tips
In moderation. another way to add something extra to your service is by providing helpful tips and tricks to your customers. Making them topical and relevant is a great way to ensure their value. For example, as summer approaches, helpful tips to remove grass stains would be a great thing to share! Or perhaps tips on how to be more eco-friendly when you clean your clothes.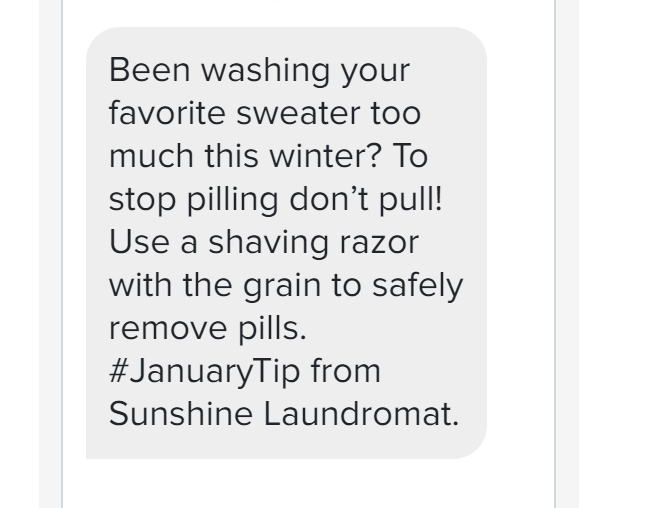 Four Steps to Get Started With SMS Laundry Service Advertising
Now that your creative juices are flowing, it's time to channel your energy into action. Getting started with SMS only takes a few steps:
1. Text Enable Your Number
To get your business texting, the first step is selecting your number. You have a few options. First, if your business already has an existing 10-digit landline, you can choose to text enable it. You can also opt to get set up with a local ten digit number, for added familiarity. Or, you could elect to utilize a short code.
2. Choose Your Keyword
Once your business has its number, you want to reserve a keyword. This is a short, memorable, word or phrase unique to your business. A keyword can be anything, but if you're utilizing a shared short code, you cannot use a keyword that has already been claimed. For example, if you're laundromat is called Aces and it's on Main street, you might use the keyword "ACESonFifth"
3. Upload Existing Contacts
If you already have phone numbers for some of your customers in an existing database, you can upload them directly into TextBack Ai. However, each person on your list must have given express written consent to receive messages from you. Texting any numbers that you have not collected organically is illegal and strictly against Textback Ai's anti-spam policy.
4. Advertise Your Text Marketing Program and Attract New Contacts
All of the text examples above are great, but they won't work if you don't have people to send them to! Building out a strong subscriber list is just as important as writing your campaigns. Unfortunately, you won't build out your list without putting in some work. Luckily, we have some ideas to help get you started.
Ways to Build Your Laundromat and Dry Cleaner Subscriber List
All of the text examples above are great, but they won't work if you don't have people to send them to! Building out a strong subscriber list is just as important as writing your campaigns. Unfortunately, you won't build out your list without putting in some work.
Clients across various industries have done some really creative things to earn more subscribers. From offering small free gifts and incentives to re-working their entire contact form around their short code. There are a lot of easily attainable solutions that will give your text marketing program the visibility it needs to succeed. Things like…
Table tents by the register and posters throughout your laundromat or dry cleaner advertising your number and a keyword to text in to receive discounts, etc.
Social media posts sharing your short code and sample texts
Add window signs to all your locations advertising your contact information
Sign up form on your website
Anywhere where your brand is, information about how to join your texting program shouldn't be far behind. The more you practice sharing information, the easier it will come. Encourage your staff to opt in to receive your texts so they can be familiar with it as well! This will ensure your entire team is well informed should anyone have questions at the register.
More reading about SMS marketing:
Text messages for Entertainment