SMS Solutions for Employee Communication
How to Use Texting Solutions for HR Communication?
Human resources representatives are the unsung heroes of the business world. They manage relationships, facilitate new employee on-boarding, tackle internal communications, and have a hand in just about every aspect of business operations.
No matter the size of your organization, the responsibilities of HR reps loom large. That's why tools designed to help you extend your abilities and stay organized are invaluable. But HR-specific software companies managed to a put a price on that kind of convenience, and it's not cheap.
Finding supplementary communication tools that you can tailor to fill the gaps in your organization's internal operations is key. And texting solutions are a familiar, universally accepted, budget-friendly solution created with needs like yours in mind.
If HR departments are the engine within an organization, find out how text marketing technology can be the oil that keeps operations running smoothly.
How SMS for HR Can Improve Employee Communication?
There's an old saying that "money talks." If that's true, then what is it saying? In the case of Human Resources, all the chatter points to the importance of strong company-wide communications.
In a survey of 400 companies with 100,000 or more employees each, an average loss per company of $62.4 million per year was cited because of inadequate communication to and between employees.
Creating a communication plan and using it to drive forward progress across company culture is a big responsibility. With everything you already have on your plate, placing an emphasis on effective communications strategies can become deprioritized.
Alternatively, you could choose to incorporate texting into your plan. A simple solution that results in big outcomes thanks to a few factors:
Text-enabling your business doesn't require any downloads, apps, or extra backend work for existing or prospective employees. All they need is their cell phone, which statistically almost all employees already have!
The learning curve related to text marketing software is limited for you as well due to the existing common knowledge on SMS.
Not only is texting familiar to your employees, but it's something they're already doing every day. Texts are read, responded to, and interacted with more frequently than emails, phone calls, or social media posts. In short, it's virtually the fastest way to reach people no matter the distance between you.
It's a strong recruitment tool with 70% of job seekers using mobile devices to consider their next career move.
Just begin to consider how much easier open enrollment periods, scheduling meetings/ interviews, and managing payroll could be without the hassle of missed emails, full mailboxes, and every other communication barrier that has you banging your head against the wall.
How Does SMS for HR Communication Work?
We'll begin by saying that the following is hardly a start-to-finish description of getting started with SMS. For that, we would suggest you take a look at our ultimate guide to SMS marketing. And we'll also go out on a limb here and assume you're passionate about resources due to the nature of your job title….so we've also compiled a collection of other tools and tips including:
Our dedicated space for navigating matters of SMS
Now, instead of simply describing the mechanics of how texting would work within an HR department, we'll paint you a picture of what it looks like in the context of actual tasks you tackle.
Imagine tools like this turning tedious everyday tasks into automated masterpieces:
Scheduled texts giving you the ability to set-it-and-forget-it when it comes to sending messages or reminders to 1, 10, 100, or 1,000 employees all at once.
Keywords making it easy for interested prospective or existing employees to text in a word or phrase and receive updates specific to that topic.
Segments making it possible to separate contacts by groups, departments, or interests.
Triggers acting as a first line of defense by automatically answering FAQs or inquiries without you having to lift a finger.
All of this and so much more is possible by opening yourself up to the future of a text-enabled workforce.
Examples of Texts for Internal and HR Communications
Here are just a few of the ways you could start using texting to improve your overall HR operations.
Schedule Meetings
Your email can get clogged with threads of back-and-forth exchanges of availability. Instead, keep it organized by simply texting an existing or prospective employee to schedule a meeting. You can then use SMS to automatically remind recipients about upcoming interviews, even send trackable links to whatever calendar tool you're using.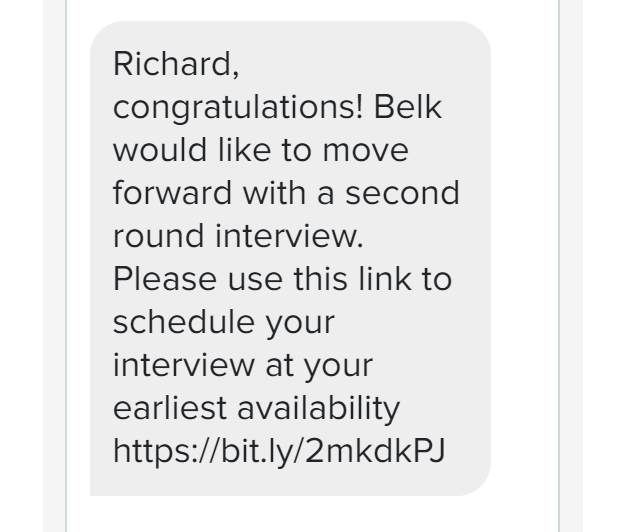 Recruitment Tool
Recruiting can be a huge part of HR operations. So much so that we created an entirely separate guide on how to manage it through texting! The highlights include using it as a way to organize interviews, identify and follow up with leads, collect interview feedback, and pre-screen candidates. It's important to note that organizations that invest in a strong candidate experience improve the quality of their new hires by 70% according to studies done by Glassdoor!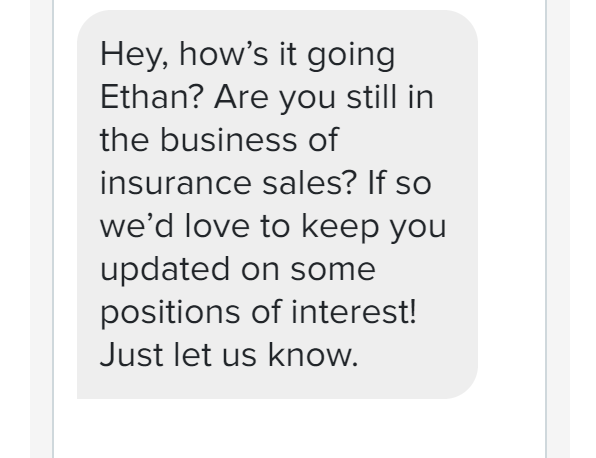 Send Out Employee Surveys
Texting isn't always about sharing your voice, it's also a great tool for collecting feedback from your contacts. A quick and easy way to encourage feedback from employees is by giving them a short text to vote survey or by utilizing our polling tool for lengthier questionnaires.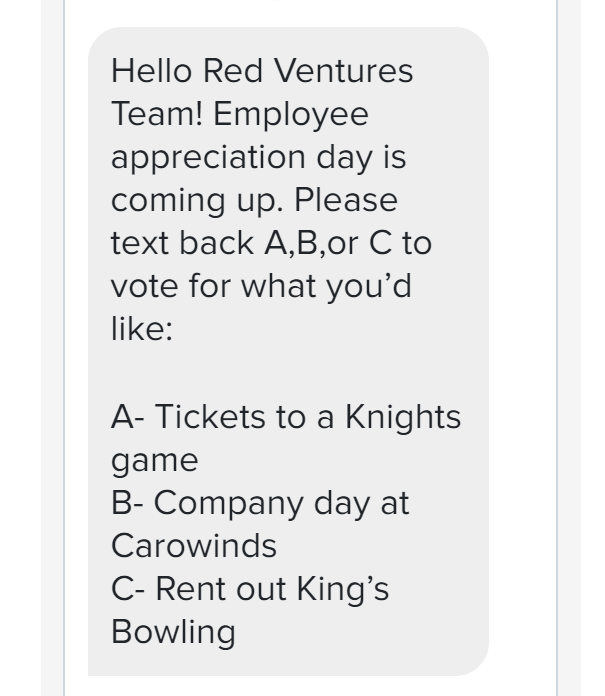 Manage Benefits & Open Enrollment
Employee benefits management requires mountains of paperwork. What tends to make these times easiest on the HR team is when people are responsive and timely to all your requests and information. By sending reminders and links to necessary portals directly to their cell phones, you cut through the noise of inboxes thus prioritizing your messaging.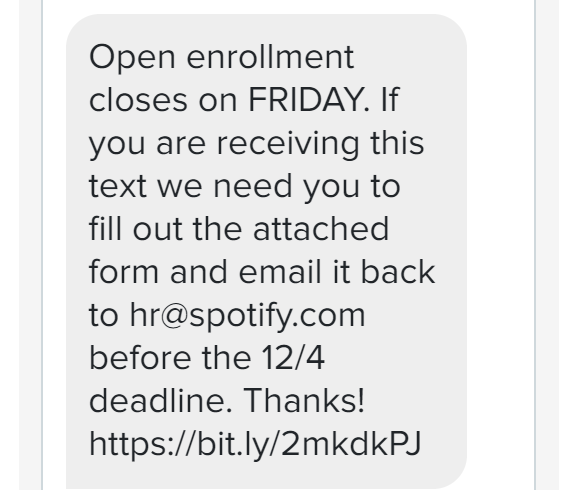 Payroll Reminders
Depending on the kind of staff you have as well as how you manage employee pay, time cards may need to be approved in order for checks to be released. Avoid any payroll related delays by automating reminders before pay periods! The same process can also be instated for PTO and scheduling matters.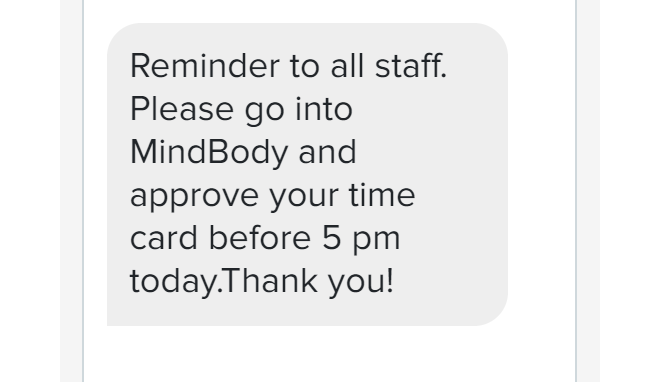 Send Motivational Messages or Employee Kudos
89% of workers at companies that support well-being efforts are more likely to recommend their company as a good place to work according to the American Psychological Association. It's important to keep employees motivated, but it shouldn't add more work or stress onto your plate. Make it easy and personal by sending a text blast, or a one-on-one kudos letting someone know that they're appreciated!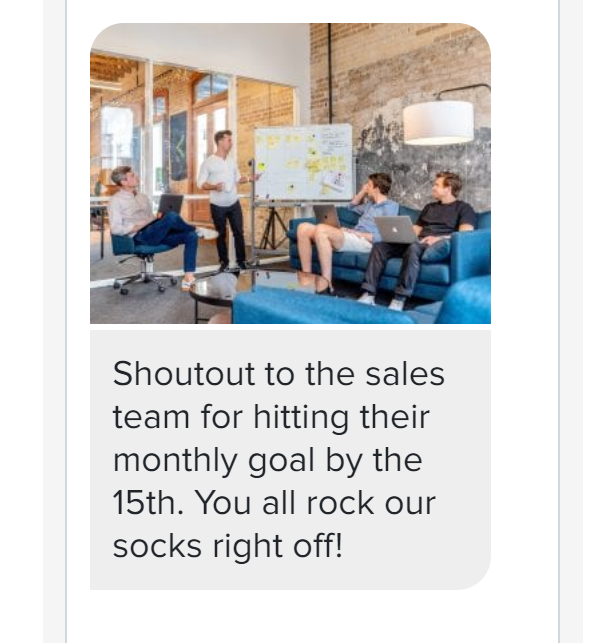 Company Event Reminders
Your marketing team works hard to organize company-wide events. Give them a hand by making sure they're well attended. As HR team members, you have the attention of the entire organization. Take advantage of that by sending out event reminders to help boost overall attendance.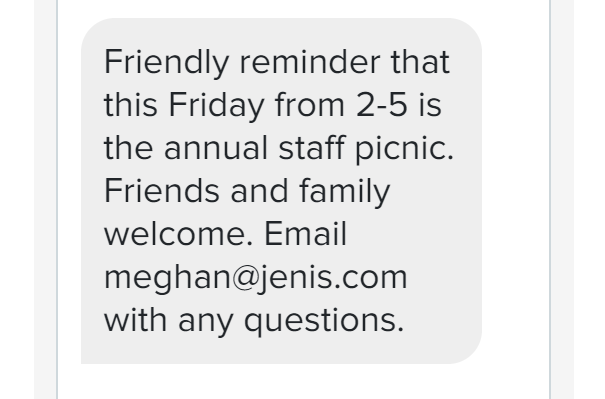 Ensure Training Compliance
Here at Textback we take matters of compliance very seriously. To avoid any trouble related to certifications lapsing, send out reminders for all employees to stay up to date on all of their training and certifications needs.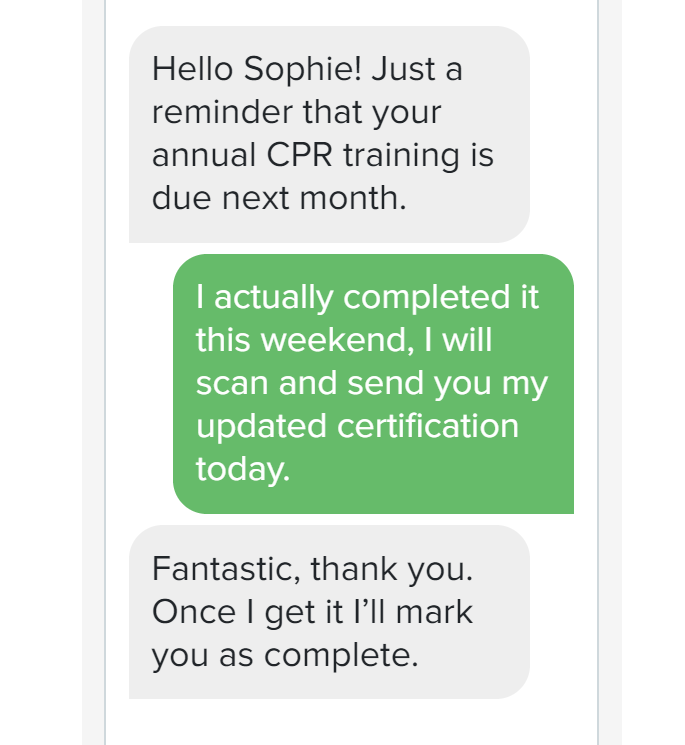 How to Get Started With SMS HR Communication in Your Business?
Adding texting into your communication strategy doesn't have to mean taking away your other methods of sharing information. After all, we know change can be difficult for a lot of folks! The great thing about texting is how quickly and easily you can layer it on top of your existing strategy. SMS makes a great tool to compliment emails or other tools like Slack.
However, over time, many people notice that SMS gradually becomes the favored form of information sharing. So know that however you choose to use the platform, whether it's for a few things or for everything, texting can adapt alongside you.
As far as getting started as an administrator, there are just a few things you need before you send out your first message.
1. Choose a Number to Text-Enable
When it comes to text enabling your business, the first step is to pick the right phone number. If your business already has an existing 10-digit landline and toll-free number, you can choose to text enable it. You can also opt to get set up with a new local 10-digit number, for added familiarity. Larger organizations may want to consider using a dedicated short code.
2. Reserve Your First Keyword
Once your business has a number squared away, you want to reserve a keyword. This is a short, memorable, word or phrase unique to your company. A keyword can be anything, but if you're utilizing a shared short code, you cannot use a keyword that has already been claimed. An example of a keyword that might work for you is HRUpdates. You can invite members of your organization to text in this keyword to your number in order to receive company updates right to their phone.
3. Upload Existing Contacts
If you already have phone numbers for some of your leads or staff in an existing database, you can upload them directly into Textback. However, each person on your list must have given express written consent to receive messages from you. Texting any numbers that you have not collected organically is illegal and strictly against Textback's anti-spam policy.
4. Advertise Your Newly Text-Enabled HR Department
Making sure that people know they can text with you is over half the battle. Educating members of your organization will be key.
Here are some tips for ensuring everyone who needs to be is aware of your new text program:
If you utilize an internal company newsletter, be sure to prominently feature instructions on opting in for a few weeks. Going forward, be sure to always include a relevant footnote with a general opt-in keyword at the very least.
Put a web form on your email signature or any other digital internal comms space.
Put signs up around the office with your keyword and text-enabled number.
Encourage your c-suite and supervisors to directly communicate information about texting to their staff members. Buy in tends to come from the top down.
When a new employee is hired and you get their cellphone number, add a consent box for them check to receive texts.
Include information on your text marketing program on your job applications.
We've created a short video series that can make it easy to teach everyone exactly how text marketing works if you want an extra boost convincing your publics why this transition benefits them as much as you!
More reading about SMS marketing:
Text messages for Entertainment